Oman
"Don't become a mere recorder of facts, but try to penetrate the mystery of their origin." Ivan Pavlov
Avid readers might remember the JDM goodness I found in Muscat right the sun rose out of the ocean. Driving  northwest along the coast on a Friday was a great opportunity to take pictures of vehicles that wouldn't be there any other day of the week. More on all the 4×4 vehicles I found there will be covered in a different story here on drivebysnapshots.com. I circled the new airport development and just before I reached the city limits, a baby blue vehicle caught my attention. Naturally, I turned off the main road to check it out.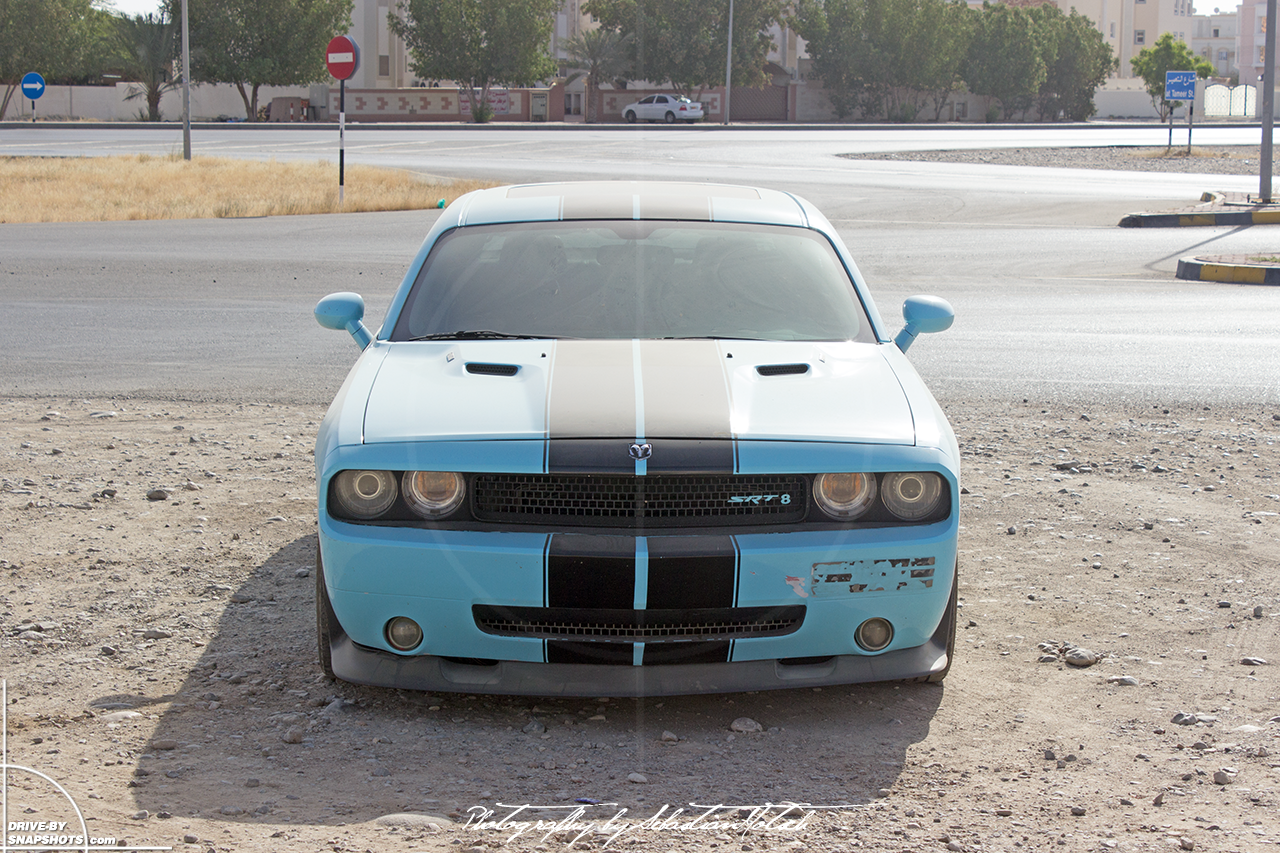 This was one of the situations where I stumbled across a vehicle that somehow didn't fit the picture. Stopping and taking pictures is natural for me, but after leaving and driving away it often takes me wonder how the vehicle ended up being abandoned at the place where I found it. Multiple scenarios come up in my head and fill my imagination with potential stories.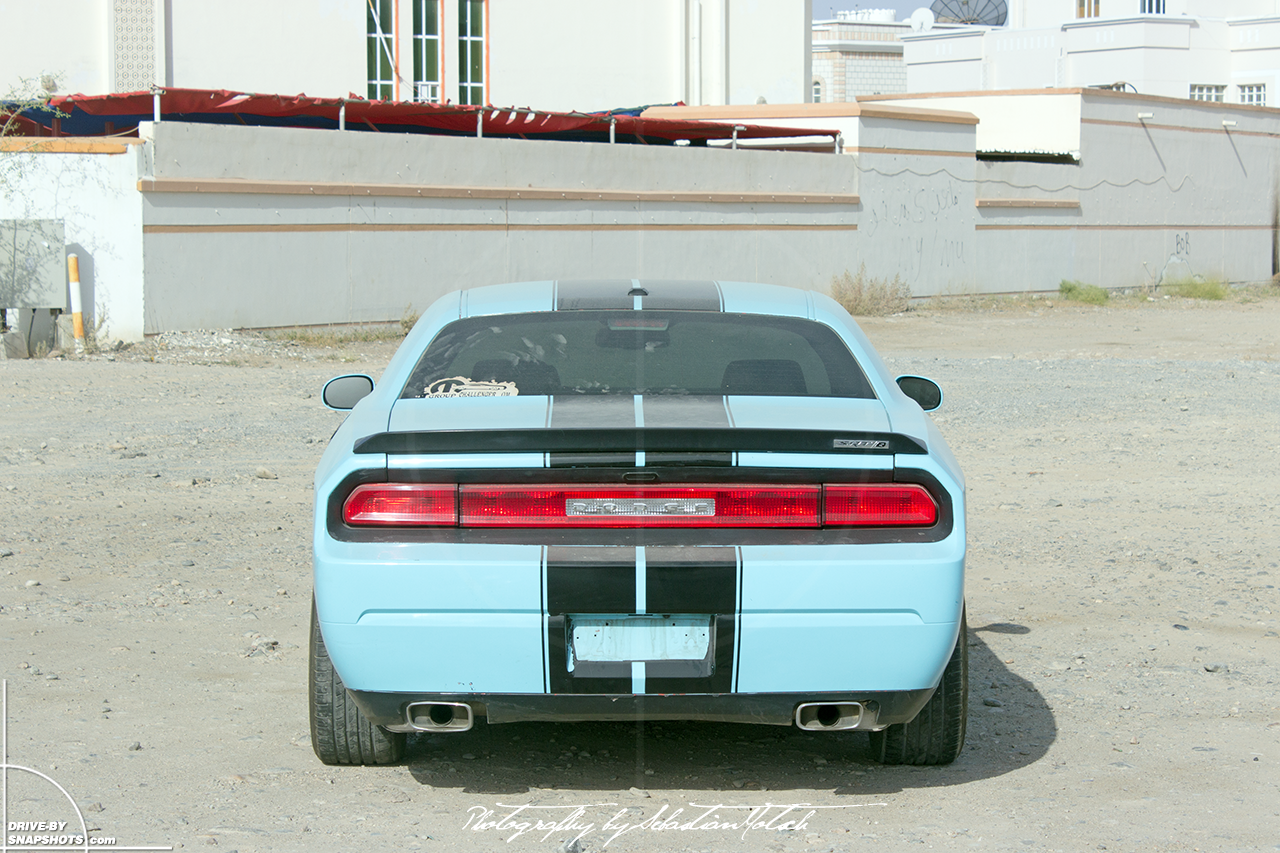 Did the car have an electrical or mechanical problem? Or was the vehicle probably stolen and the thieves just left it stranded when they ran out of petrol? This is not really a feasible idea though, because I've never heard about car theft in the Sultanate of Oman. If a knowledgeable local reads this, please enlighten me why I keep finding perfectly fine but seemingly abandoned cars around Muscat International Airport. Thank you in advance.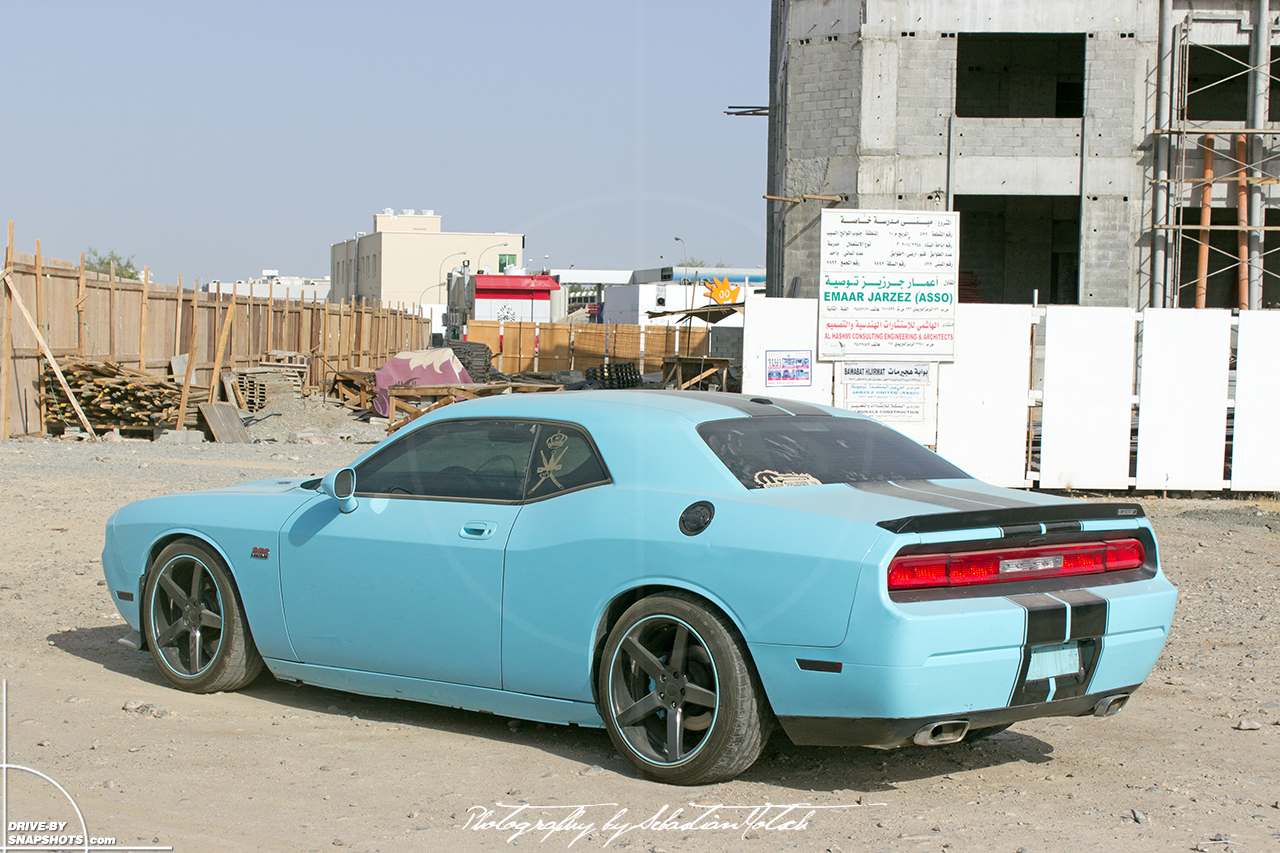 Whichever the case may be – this Dodge Challenger 392 with a Hemi V8 was missing the license plates when I found it. Judging by the thick layer of dust and general condition it had been there for quite a while. However, it wasn't exactly a spot where you'd park your car and just leave it there.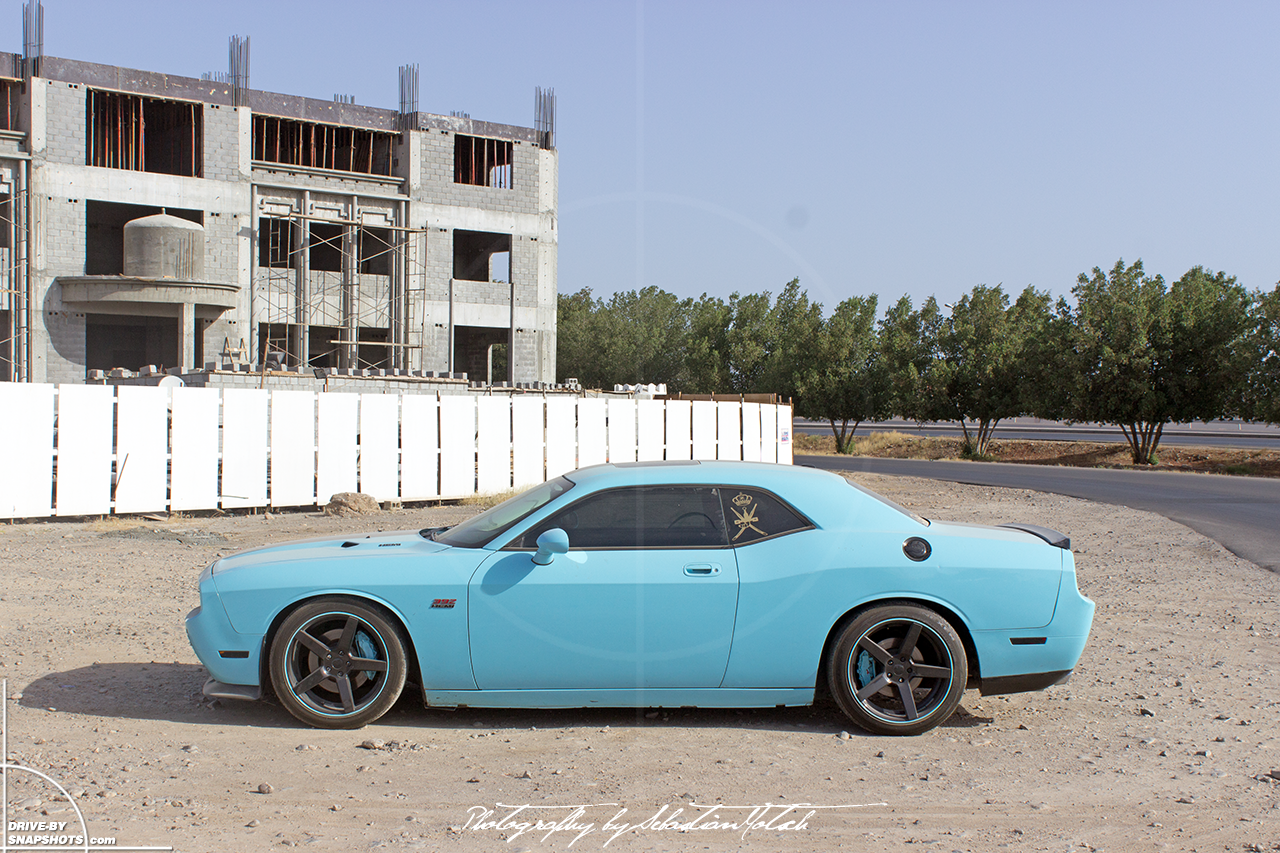 I challenge the readers to submit possible stories how the Challenger ended up where I found it. Really looking forward to hearing about your ideas.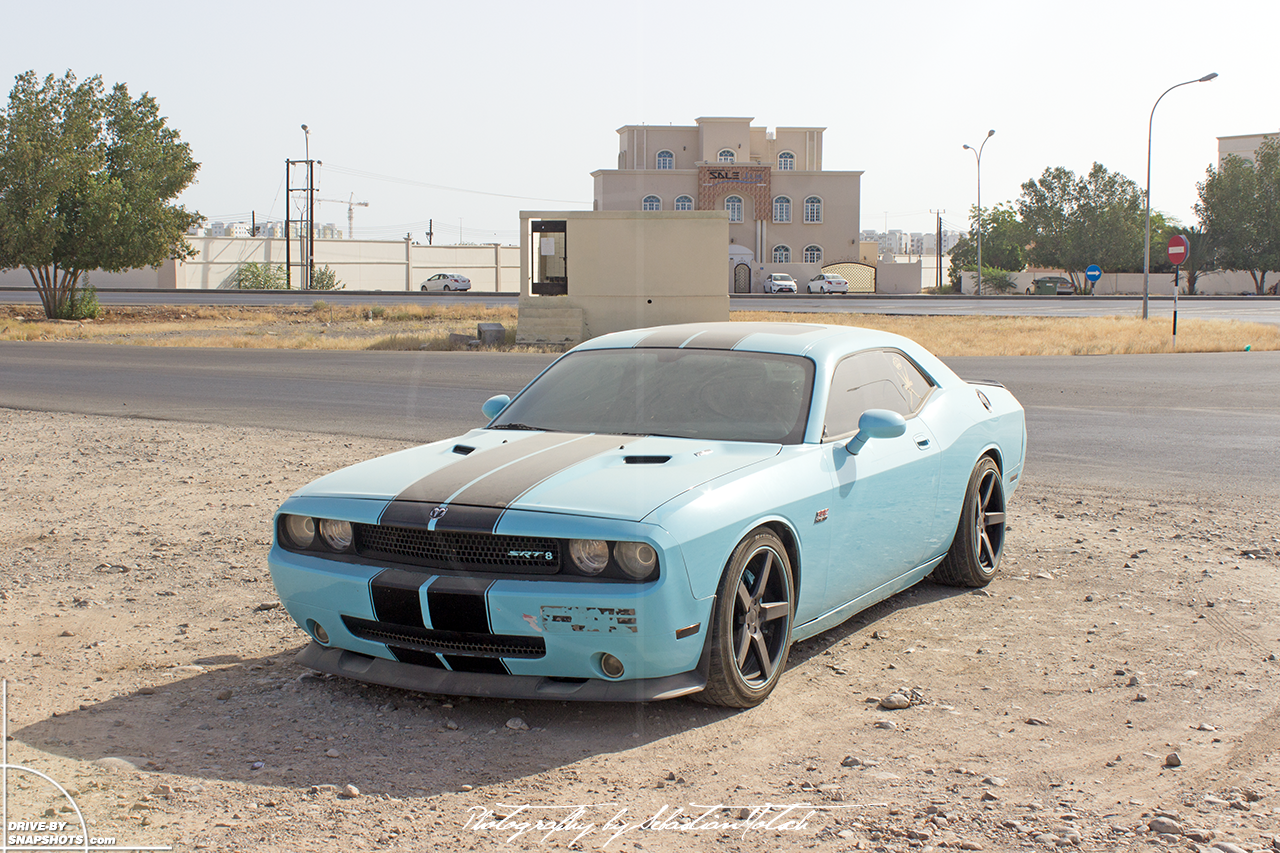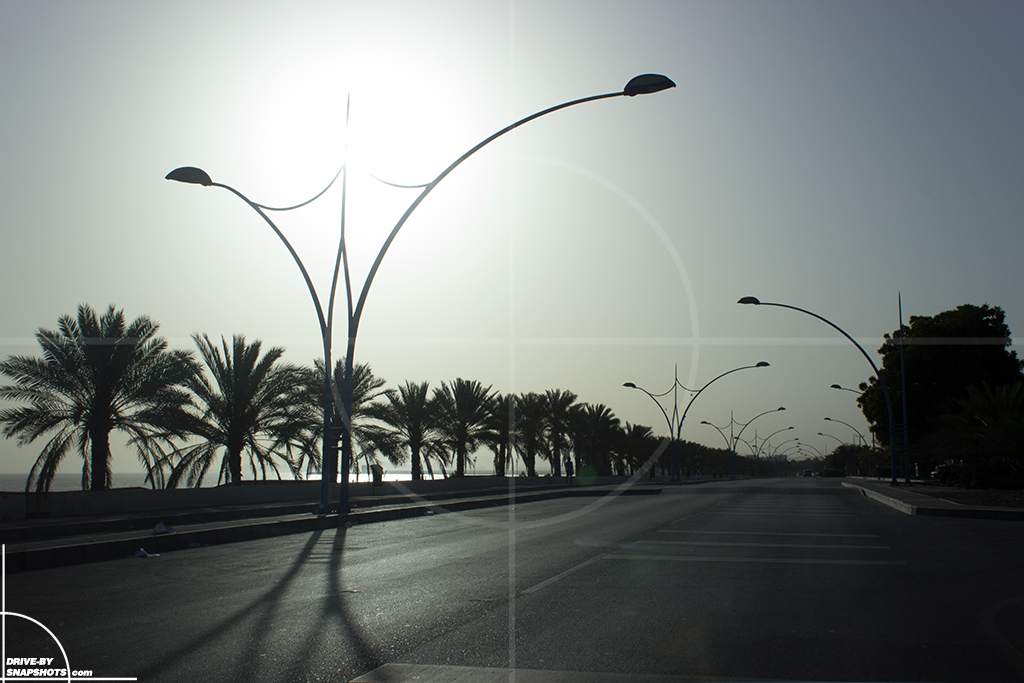 "The time you enjoy wasting is not wasted time." John Lennon
We all agree that anything is better than spending twelve hours between flights at a boring airport, don't we? In order to enjoy it and make the most of the time I had to waste anyways, I spontaneously bought a five day visa, went outside and rented a car. Nothing fancy to write home about – just a plain and dull Chevrolet Malibu. But hey – the A/C worked and the seats are way more comfortable than the benches in the transit area of the airport. OK then, let's go! No GPS, no map, no plan. This is the way I love to start an adventure!
Sultan Quaboos Street takes you from the airport to Muscat and is brightly lit at night. Cruising at a leisurely pace on an empty four-lane highway with soothing electronic music playing from a local radio station, the city lights and the full moon shining is like meditation. I kept on driving until I eventually hit the end at the Al Bustaan Palace roundabout. Last year in January we looked at the dhow in front of the Majlis Oman parliament building in bright daylight. Now, the full moon added a special vibe.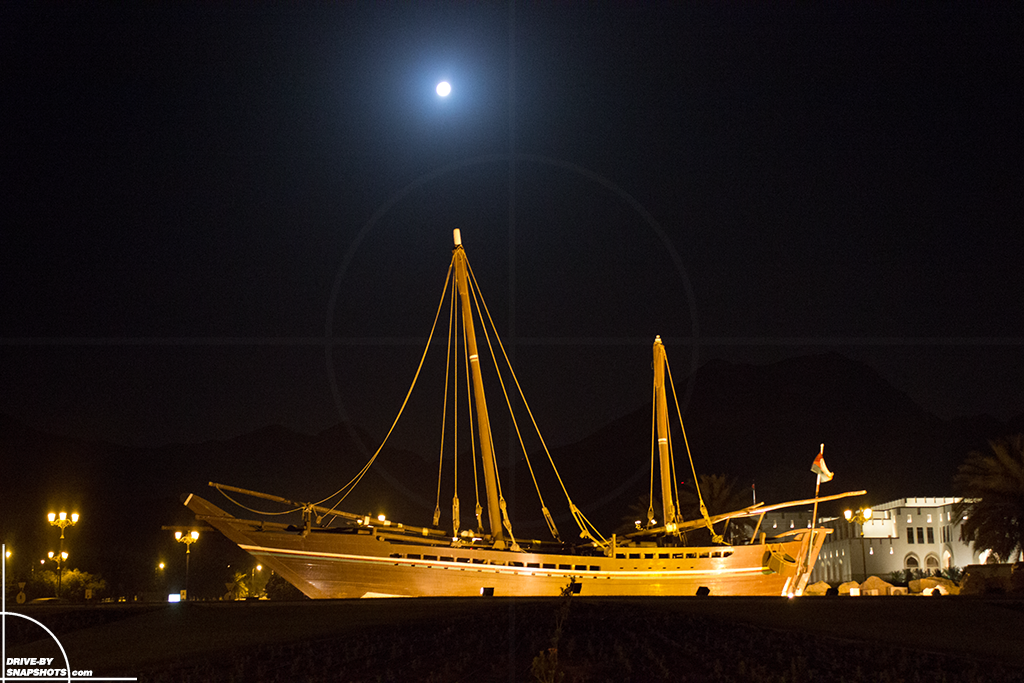 From there I took the scenic route along the coast to see what the Sultans' Palace looks like at night, but was disappointed. Its bright colors certainly look better in daylight. Driving around Mutrah and Ruwi for a while I eventually started to feel tired. In any other country I would have made an effort to find a safe place to sleep for a couple of hours. But this being Oman, I just parked my car somewhere and dozed off for a couple of hours… until the Muezzin from the nearby mosque woke me at the faintest hint of daylight. Rising early ensured that I made it to Al Khuwair North in time for sunrise.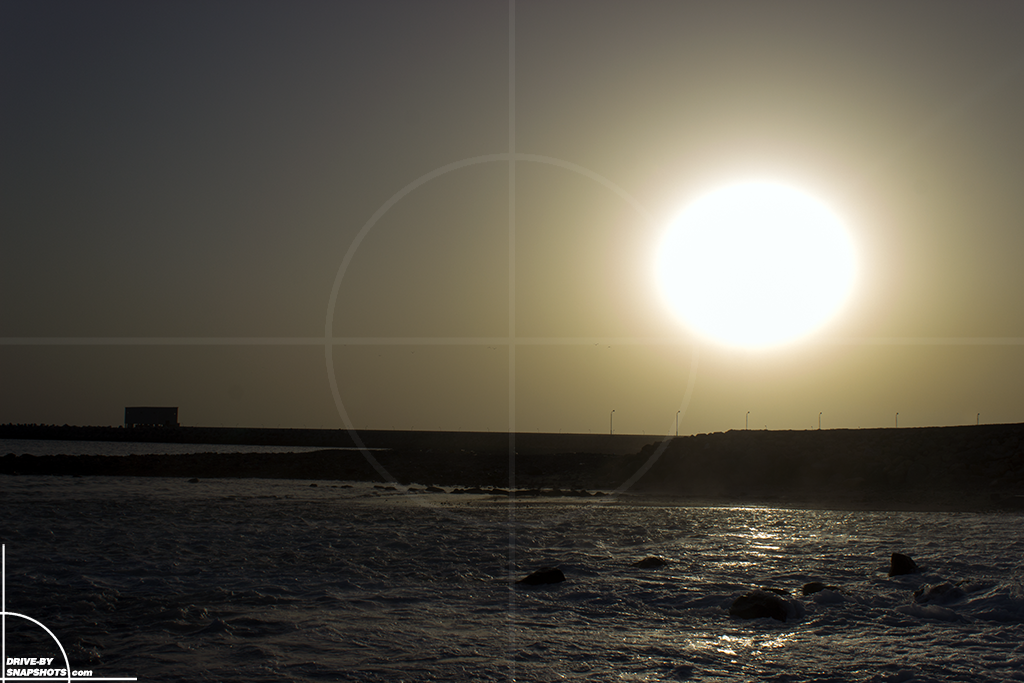 As soon as the sun was up, people appeared. Some of them walking their dogs, others jogging along the beach. On virtually every flat surface along Street 37, groups of Indians set up makeshift cricket fields. What a nice way to start the day! Don't be fooled by the empty parking spaces in the picture below as most of them parked directly on the beach.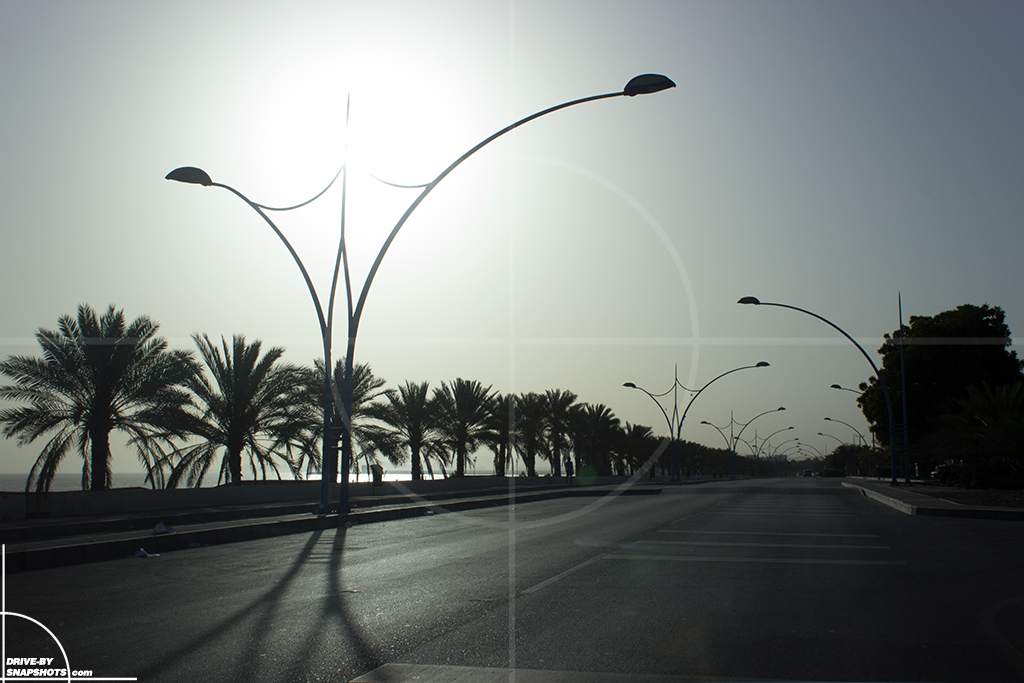 Being thirsty I started looking for a convenience store or gas station to buy some supplies. But again – this is Oman and one gets distracted easily because of all the awesome cars parked in front of the houses. In this case, pure JDM goodness: a pair of hawk-eye Subaru Impreza WRX STI.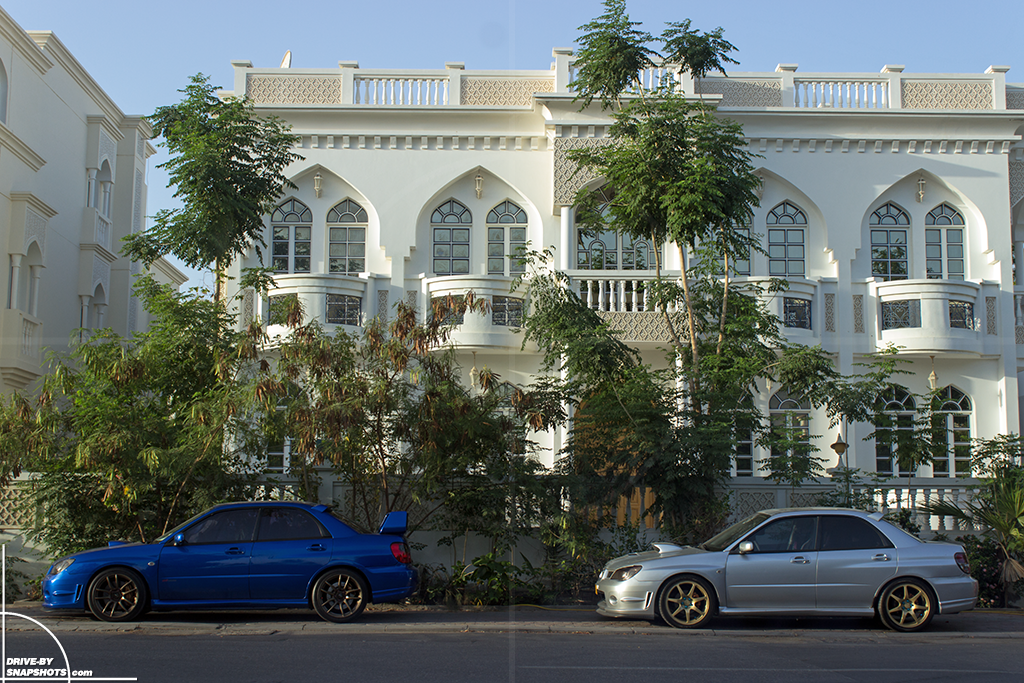 The early morning sun provided extra smooth light and it was a real joy to take these pictures in this location with a beautiful background, setting and light.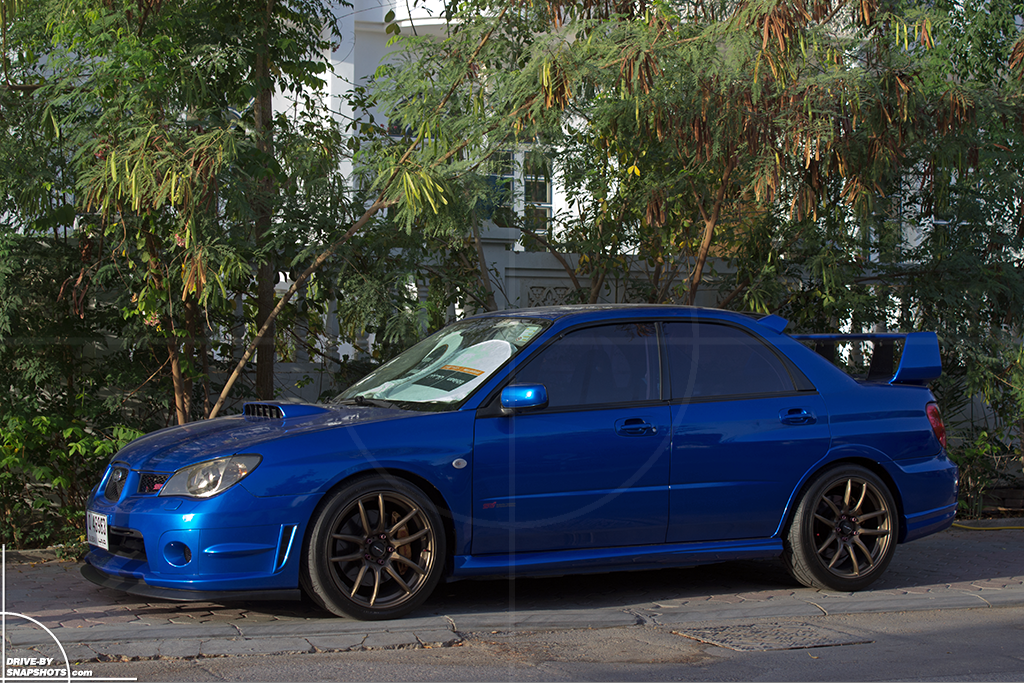 This might be a pair of weekend toys, because they also had two late-model WRX STI. Looks like I forgot to take pictures of those.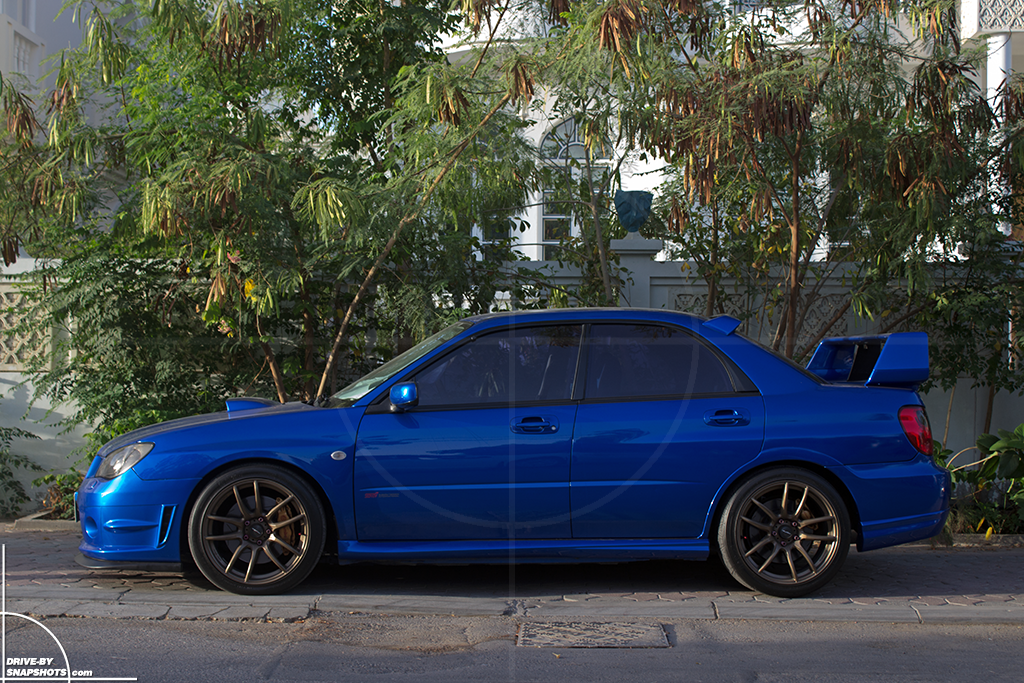 Given the choice I would prefer the silver STI without the wing, even though I like the massive wings on these WRC performance machines.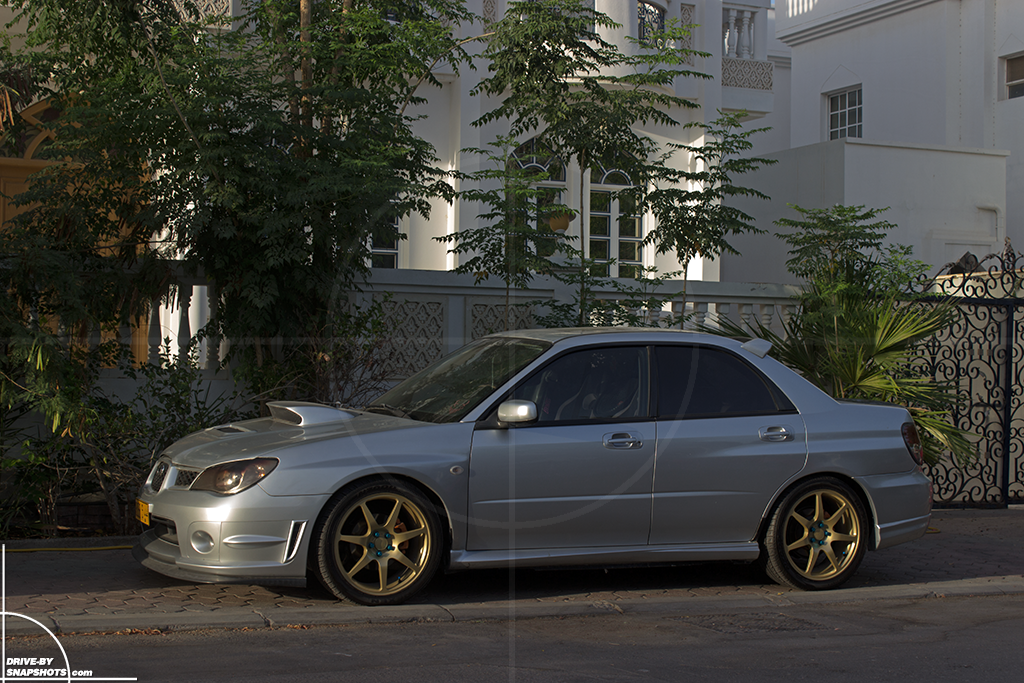 The low sun accentuated the lines of the fenders perfectly.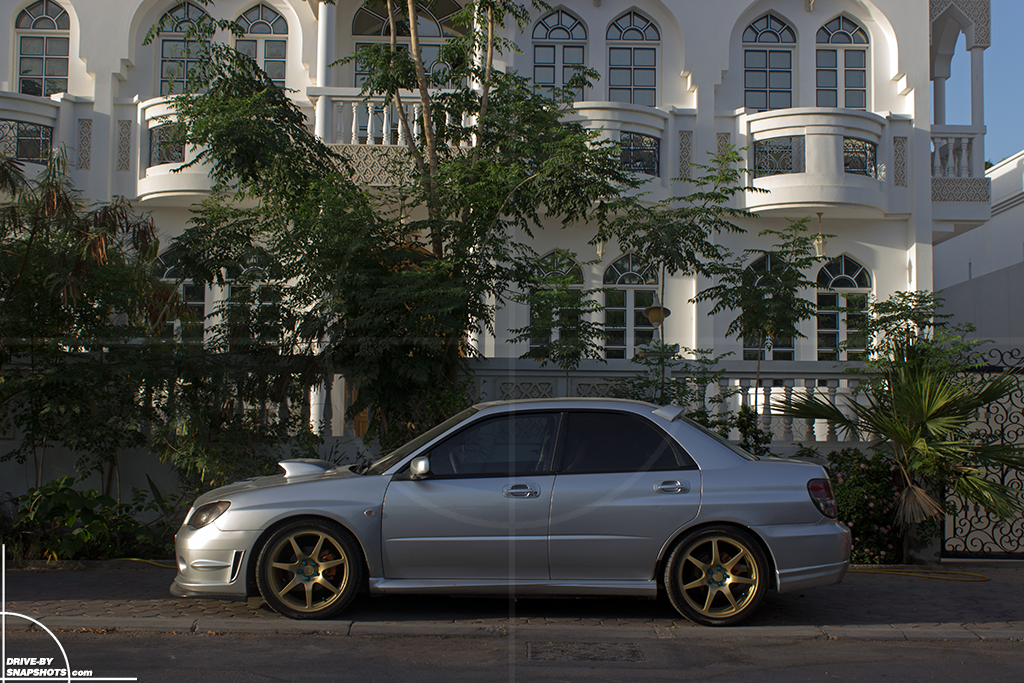 Across the street, the neighbors also enjoy the Japanese way of drive. A rather subtle Lexus IS300…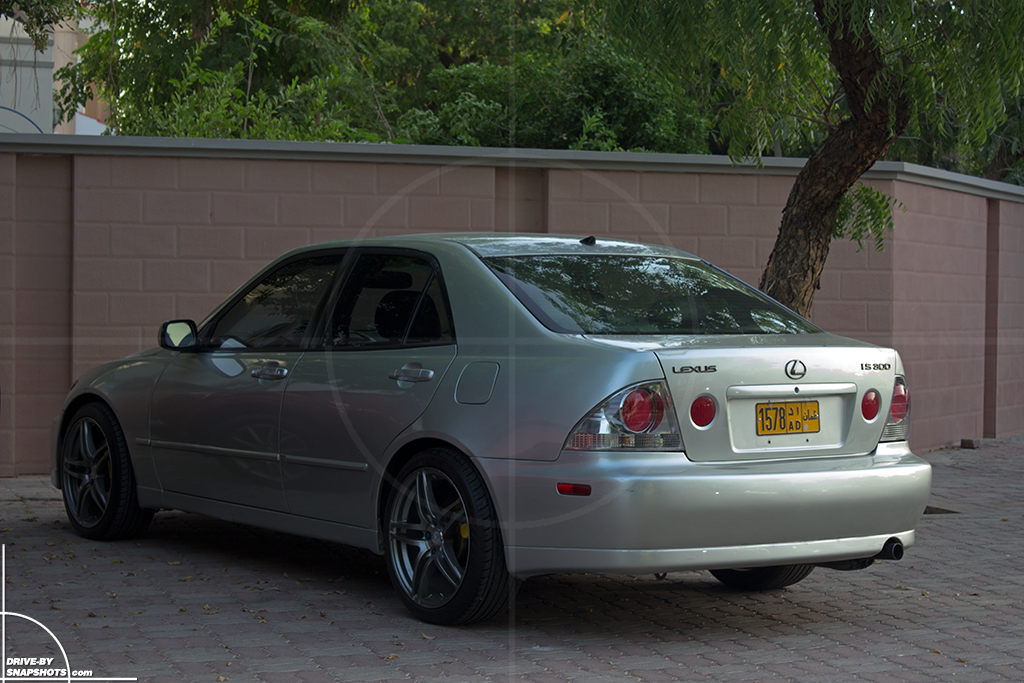 … and a not-so-subtle Mazda 2 on a set of Volk Rays TE37. #needsmorelow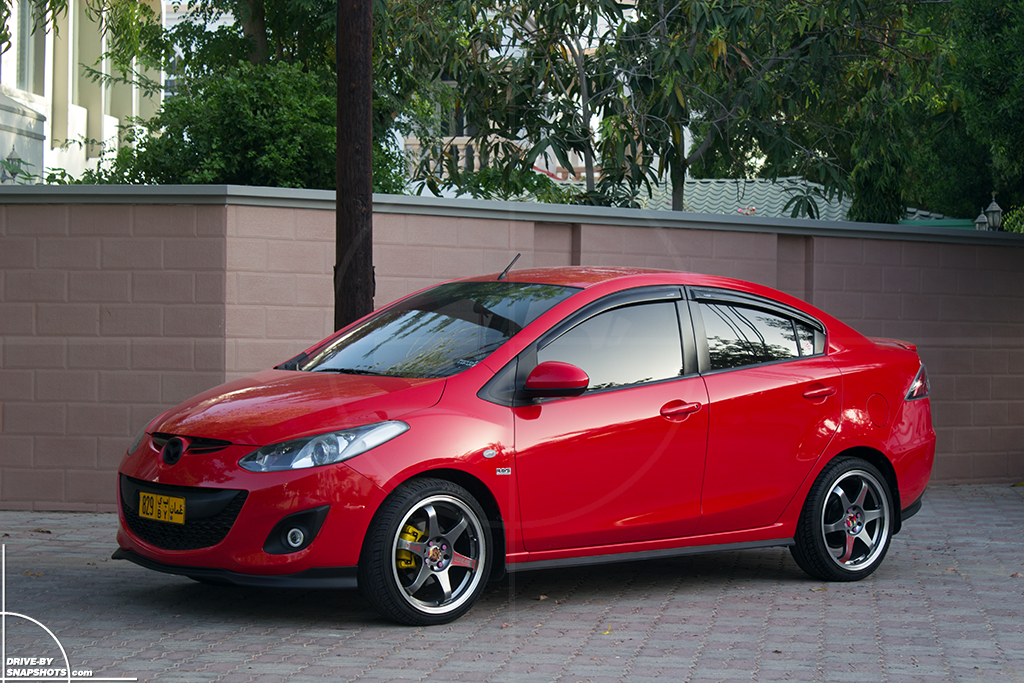 This was only the beginning of an automotive treasure hunt. There is more to come soon!

While wandering about near the Sultans' Palace in Muscat, Oman, we spotted something we didn't expect at all in this part of the world. Now who would ever look twice at an E100 series Toyota Corolla? Yeah, right. Nobody would. But because this particular vehicle wasn't painted white and sitting there sporting not only a mild stance but also a perfectly fitting exhaust tip, we casually took a second look. This really is a nice, understated daily driver that could paint a smile or even a big grin on your face while commuting to work.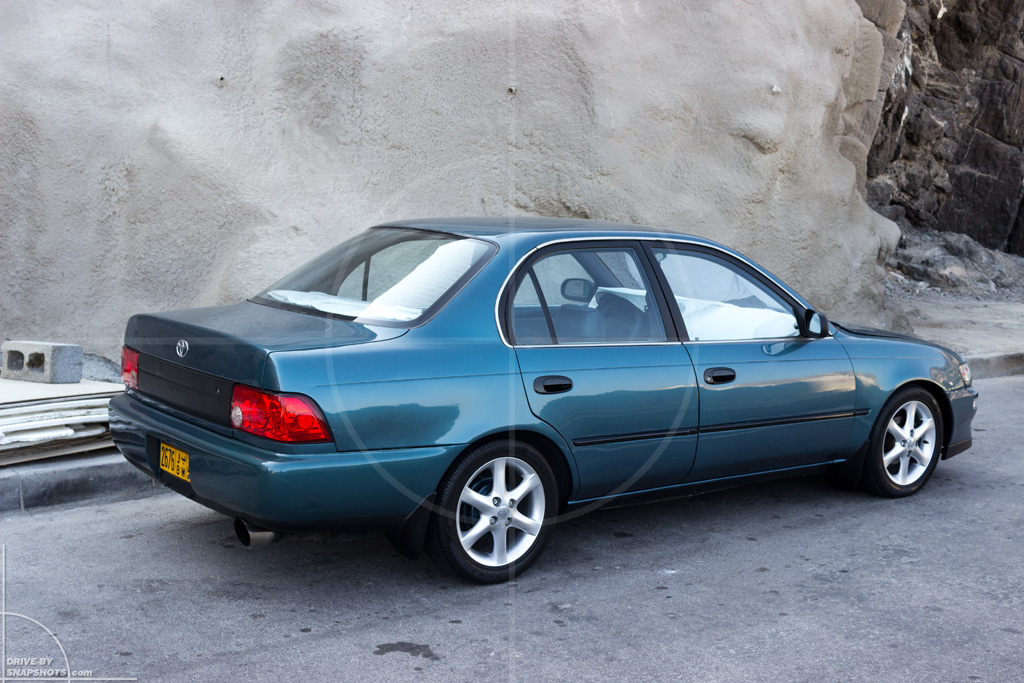 No body kit, no wing, no flashy alloy wheels. The owner just kept it simple and accentuated the clean lines of his Corolla which, in my book, makes it even better and a perfect sleeper. Unfortunately the owner wasn't around to answer any questions. Therefore we could only guess what might be hiding under the bonnet.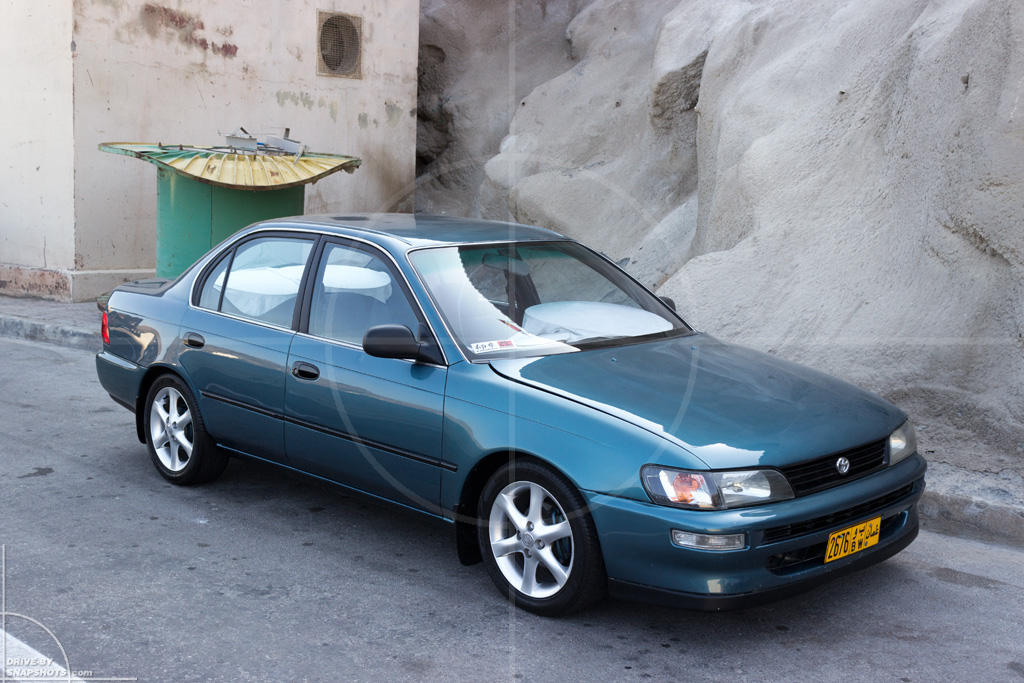 My friend Florian, who has worked for RECARO in Japan for a number of years, recognized the Kakimoto Racing sticker on the windscreen and told me that it is a well-known tuning shop in Japan. So far so good… but how odd are the chances to see a Kakimoto Racing equipped LHD(!) Corolla in the capital of Oman? This proves time and again, that you have to look behind the scenes. There might always be a little gem hiding in an alley somewhere.
PS: The bonnet is not misaligned. An Omani gentleman told us, that it is adjusted with spacers to make cooling the engine bay easier on hot days.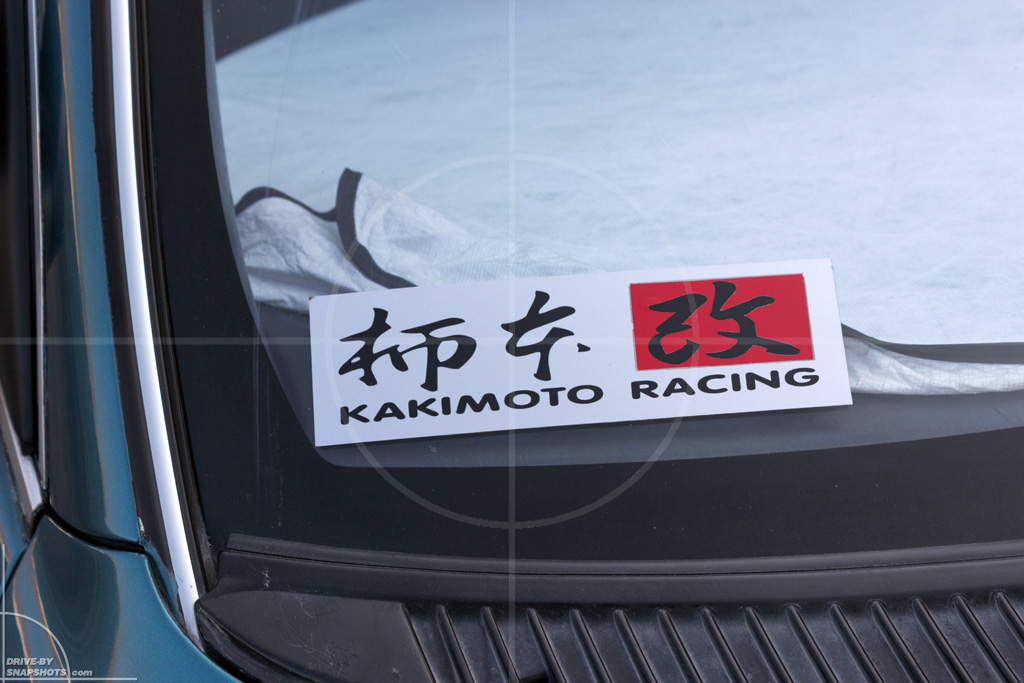 Before reading this story, please make sure to read the story called Fishermen's Friends.
Most seafood restaurants have catch of the day on their menu: a special fish out of the many fish caught last night, served fresh. Drive-by Snapshots is not a seafood restaurant but a blog covering automotive topics – and the menu changes daily.
Read More

»


Imagine you're driving along a brand new and perfectly fine highway which, without prior warning, abruptly ends at a beach. Mind you, the beach was not the intended destination!
Read More

»