Citroen


In the 1960's the internet wasn't invented yet and only a few people had a black and white TV. Apart from advertising in newspapers and cinemas, companies had to come up with different ideas to get the attention of potential customers. In France, many companies ordered special re-bodied vehicles from coach builders to gain attention at events like the Tour de France and the 24 Heures du Mans. These vehicles drove along the circuit before the races began. Concerning the Tour de France, the tradition lives on even today, but unfortunately most vehicles are not purpose-built solely for advertising duty any more.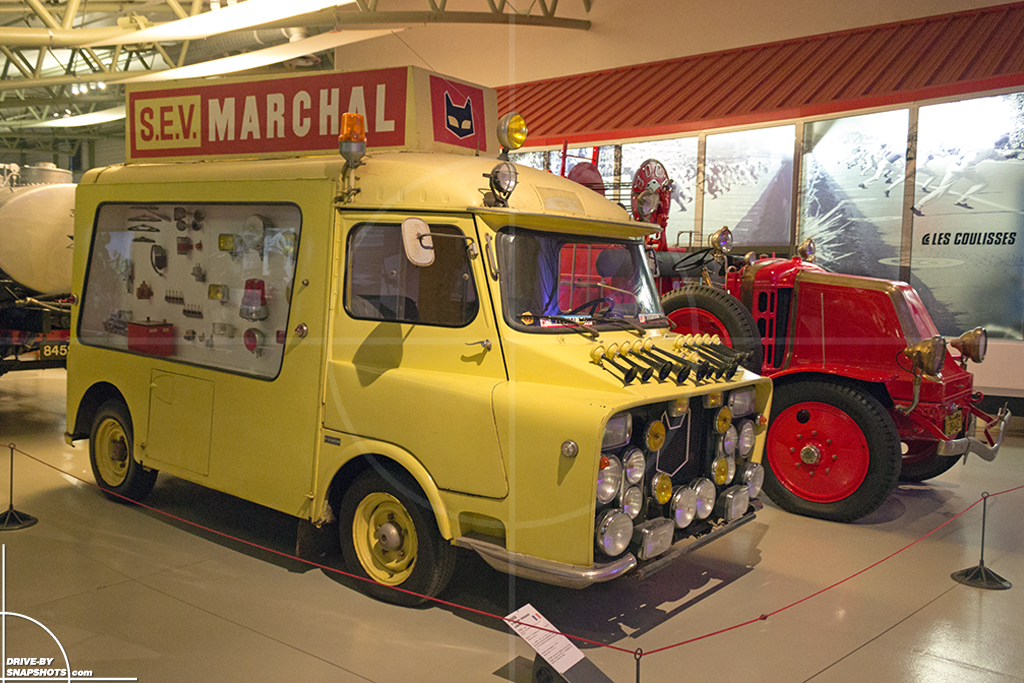 In 1964 the French company S.E.V. Marchal, who manufactured many automotive products, commissioned a re-bodied version of the Citroën HY to serve as a promotional vehicle and a showcase for their range of products. Therefore, it was equipped with many lights and horns from the portfolio. The front of the vehicle is impressive and you might wander what kind of generator they used to power all these lamps?
The sides of the vehicle have been converted to display cases with assymetrical windows and the rear features various stoplights and taillights. It seems fair to say that it lacks a bit when compared to that front-end. Note that most panels of the van are made from flat sheet metal instead of the signiture ribbed metal that makes the HY so easy to identify. The flat panels really change the overall appearance of the HY and makes it look a lot more modern.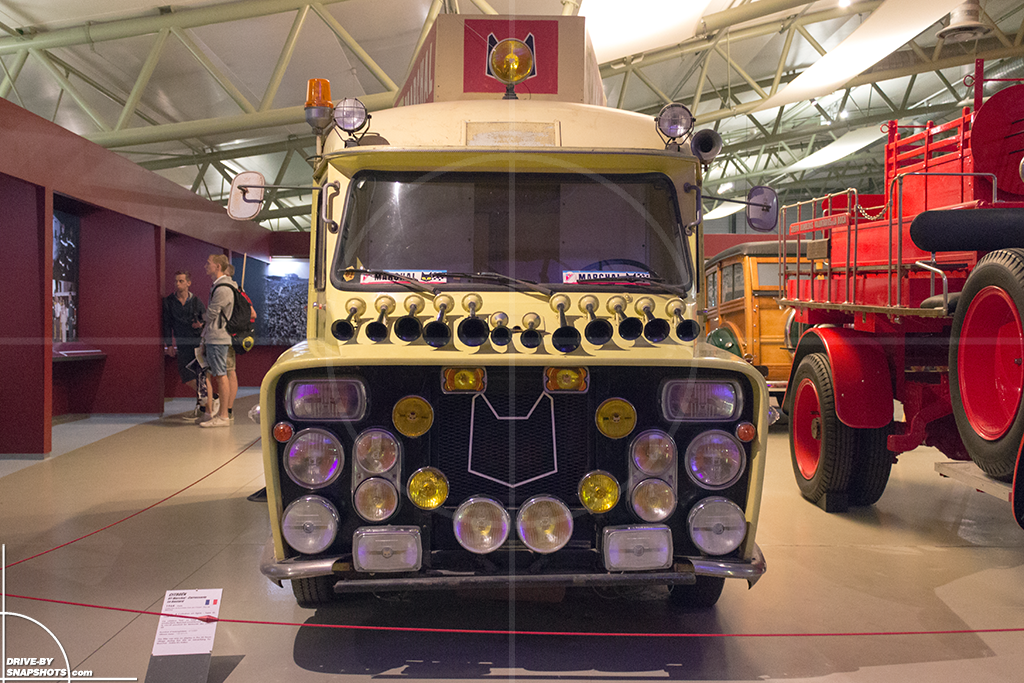 Just for fun, I tried to imagine what it might look like when all the lights are on. Impressive, n'est pas?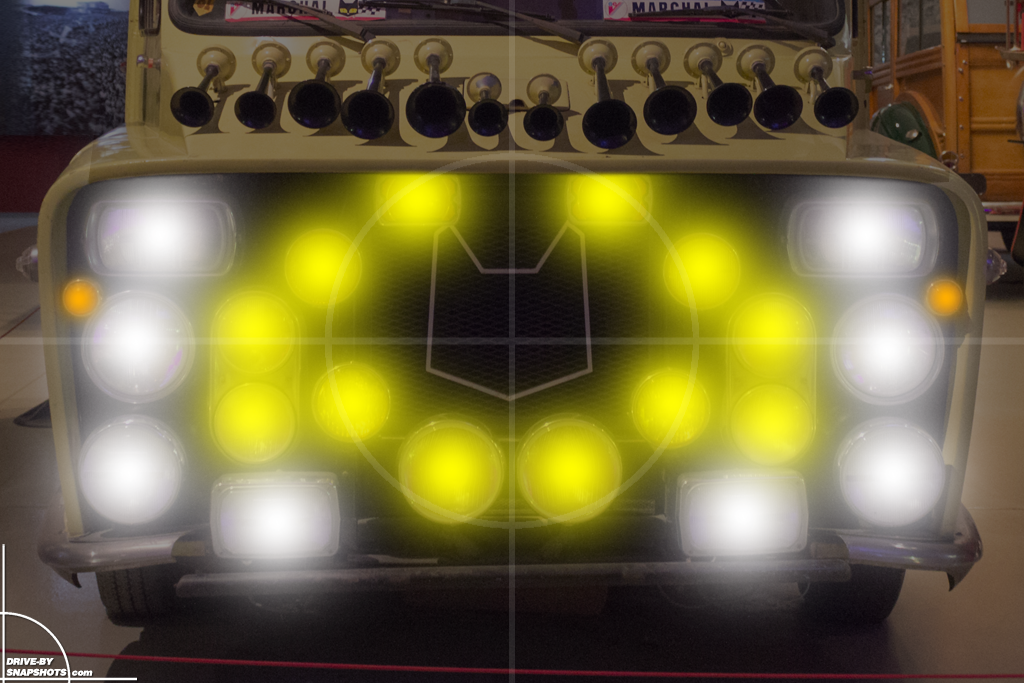 A hot summer day in 2014. Heading towards the Nürburgring for the annual Oldtimer Grand Prix, we decided to stop at a rest area to buy refreshments. The petrol station was filled to the brim with travelers, their (mostly humdrum) cars, and a couple of trucks for good measure. But there is always a nugget to be found somewhere, if you just look hard enough. Actually, we didn't really have to look hard, because the nugget occupied one of the prime spots. The owner and his friend just wanted to leave, but happily stopped and agreed to answer some questions and let me take a few pictures. Thank you, guys!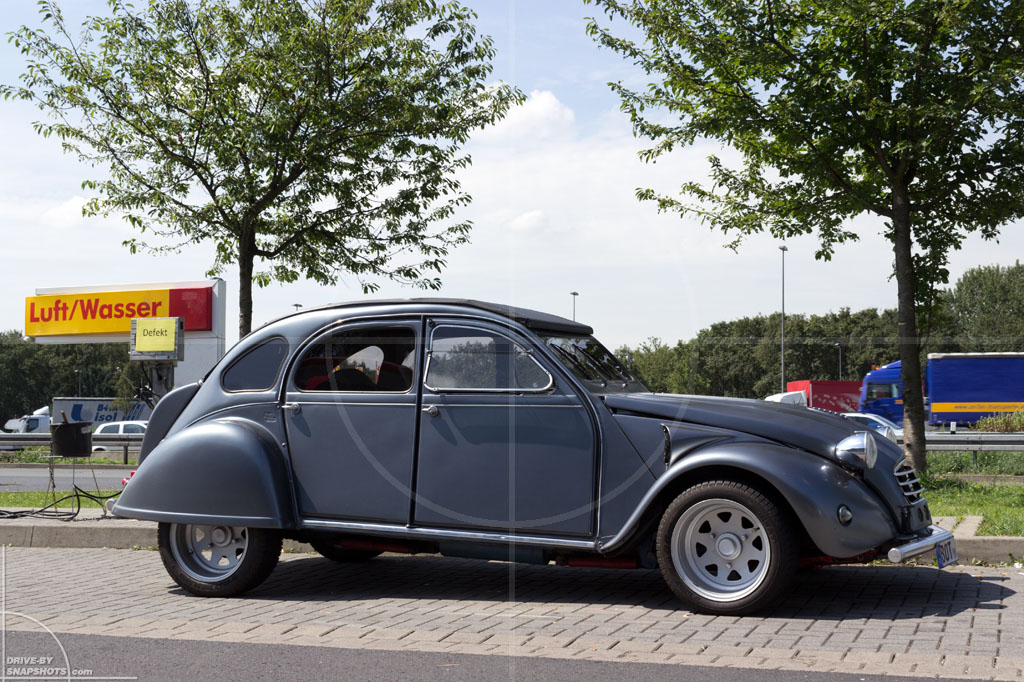 So what do we have here? It's a Citroën 2CV with plenty of modifications. Most visible and hard to miss: the top has been chopped. In order to keep the original windscreen, the angle of the A-pillar has been adjusted. If I remember correctly, it also had something to do with being able to make the car road legal (TÜV approved).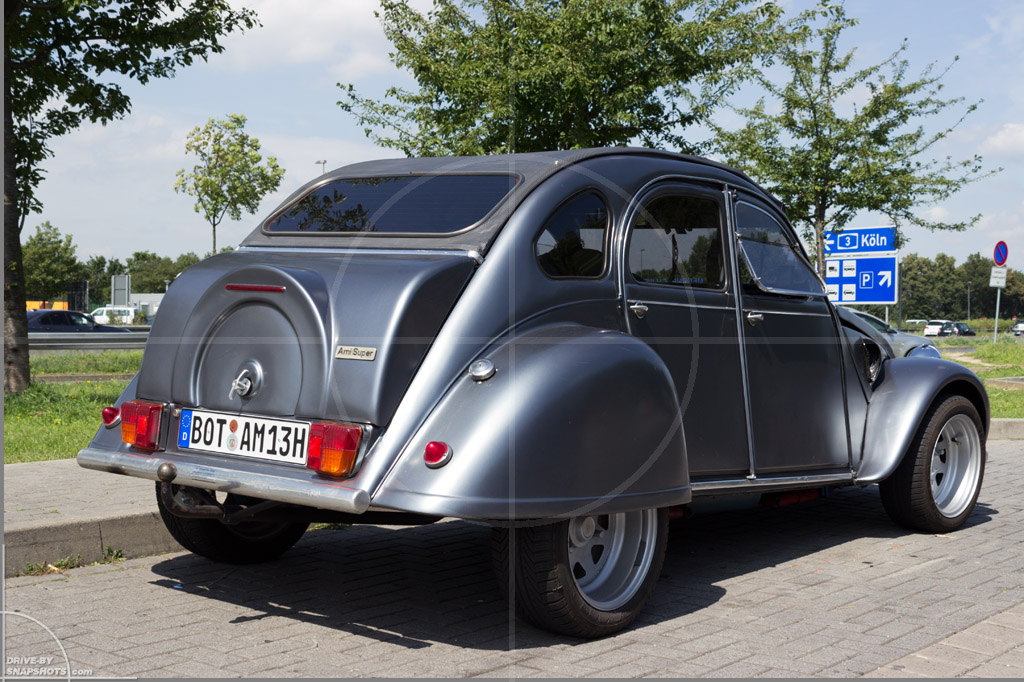 The rear has been treated to one of those parts that look cheesy on a normal 2CV. But on this car, it somehow looks as it was purposely designed for it.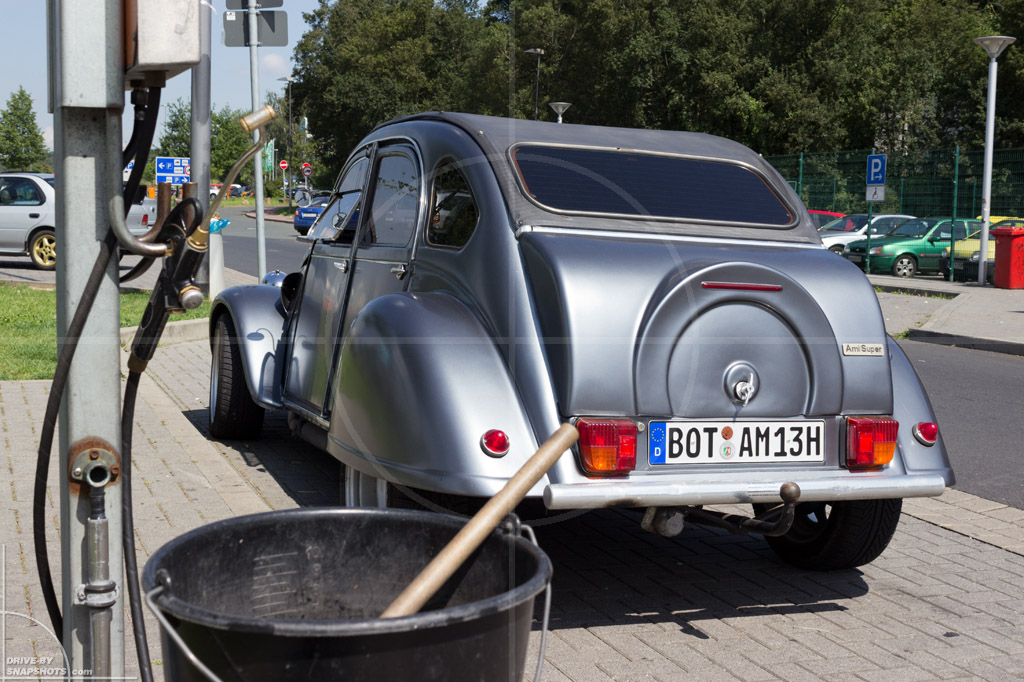 I always loved the design of these aftermarket 2CV wheels – but widened like that makes them pop even more! Great choice!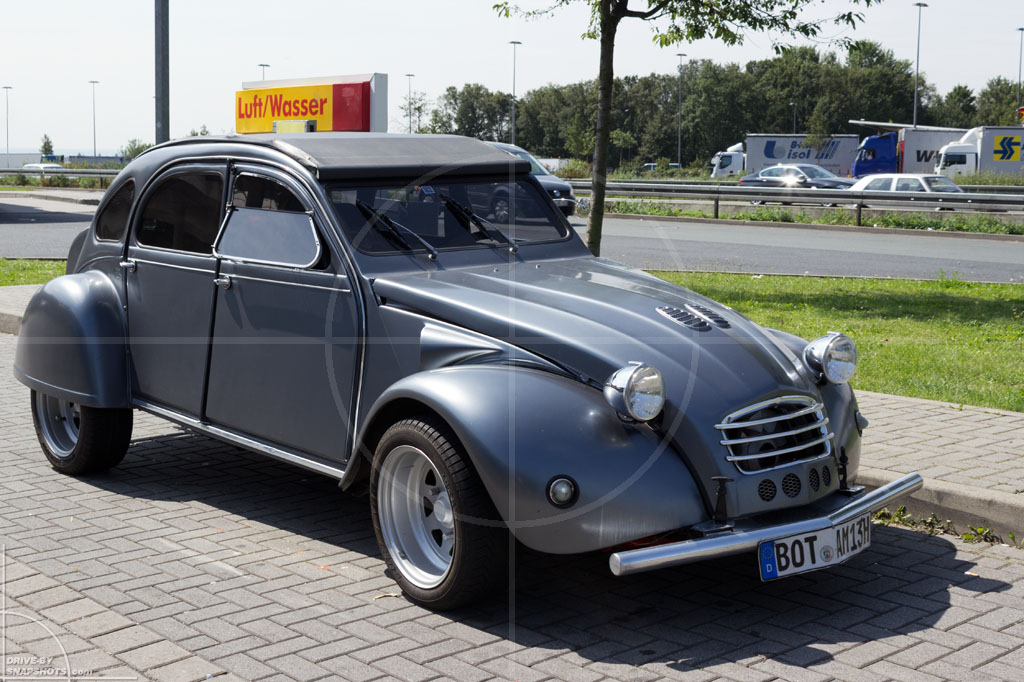 Up front, the widened fenders look awesome. In conjunction with the chopped top and the lowered ride height, this 2CV looks a lot angrier than the rather cute stock version.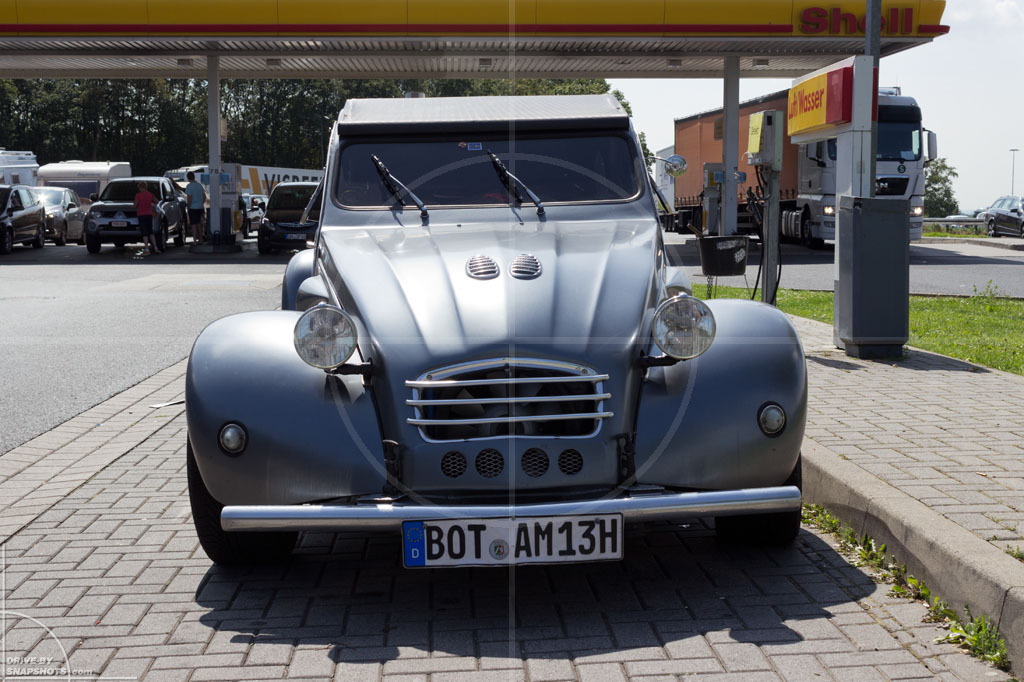 The ventilation scoop in the fender is not just there for looks. It helps with extracting the heat of the tuned four cylinder, air-cooled Citroën GS boxer engine.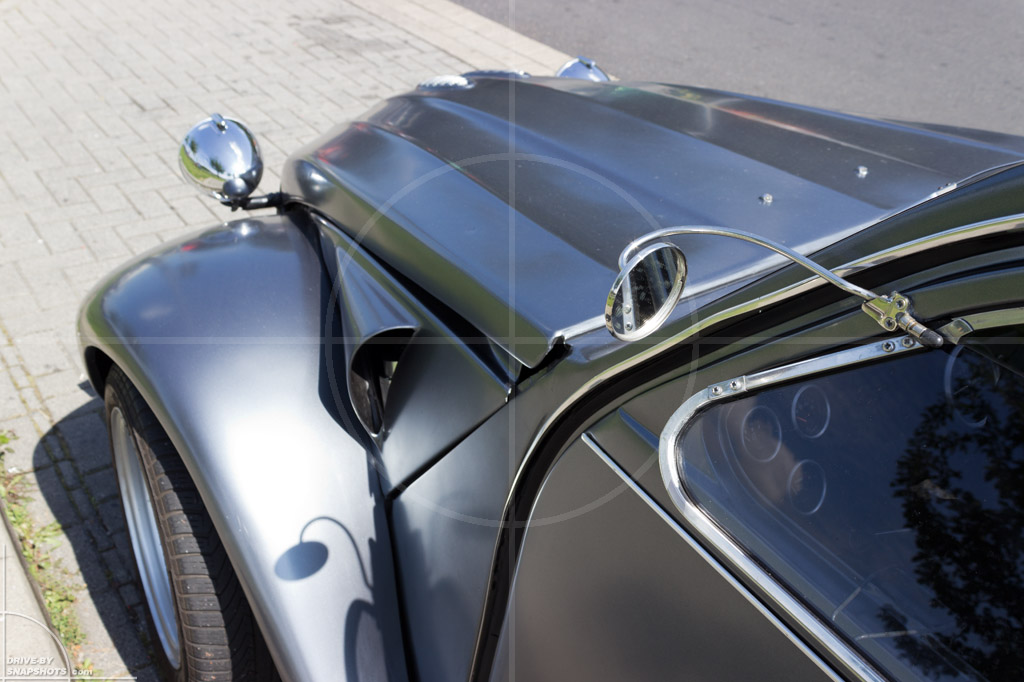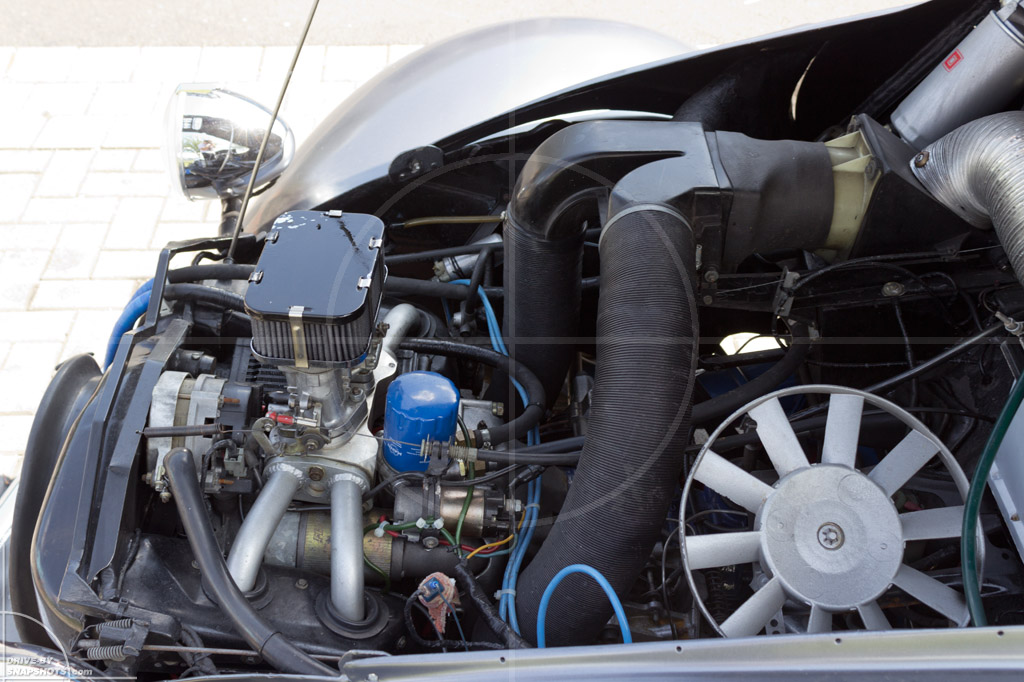 The engine itself was finished nicely and featured plenty of brilliant solutions, most of which I unfortunately don't remember now, more than half a year later.
But one thing I do remember is the fantastic sound. You just can't beat a carburetor with an open air filter!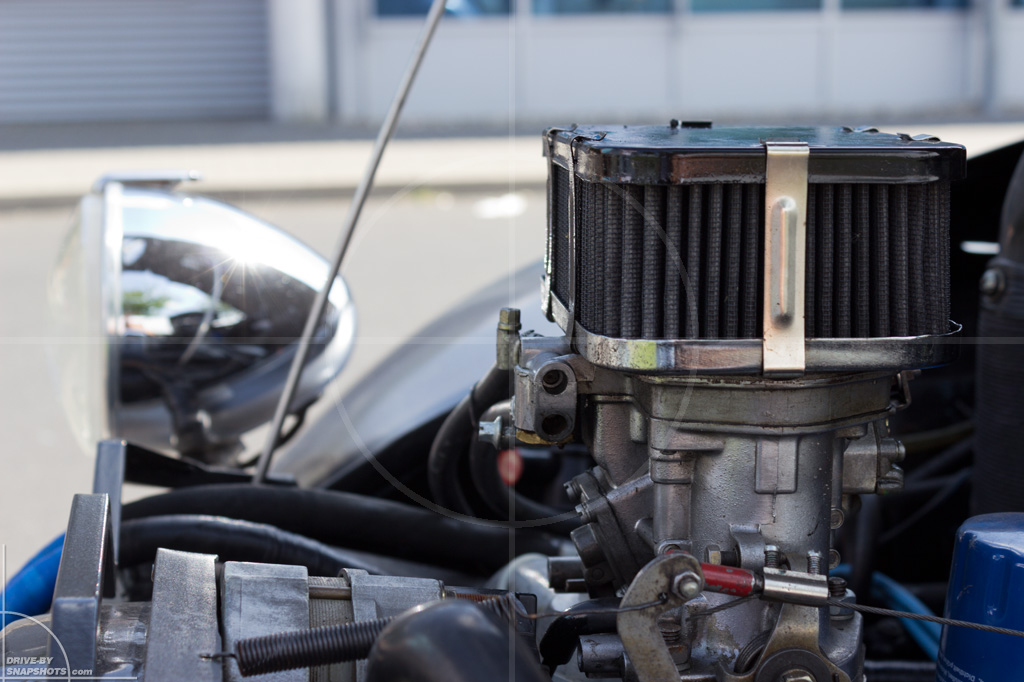 Inside, all the vital functions can be monitored. The guys told me that the ignition switch broke during their holiday. But hey, if this happens to you with a modern car, you're in for a costly repair in a foreign country with all chances of being ripped off, because you have no choice. Older cars are better in this regard – just hot-wire it and drive home 🙂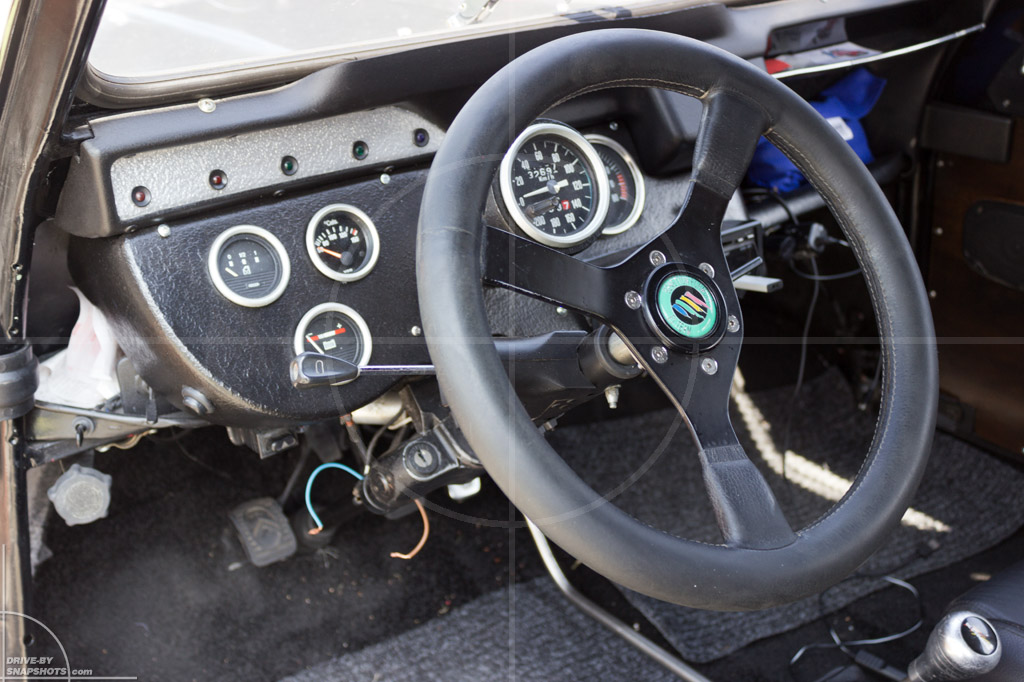 Alfa Romeo seats help with driving long-distance in such a vehicle, because they are way more supportive than the stock seats.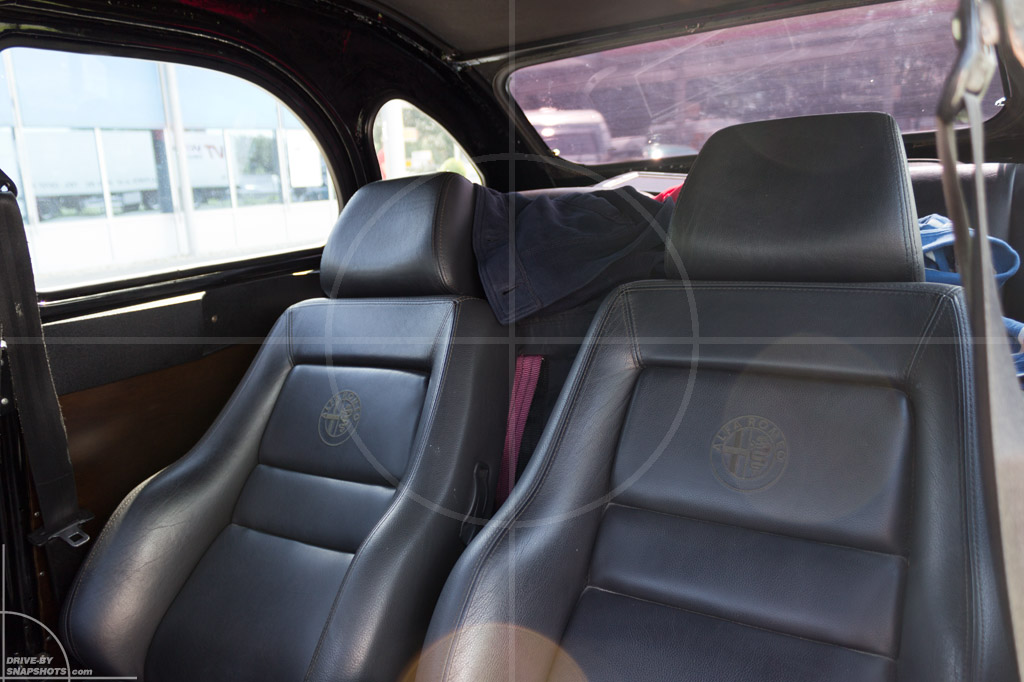 In case you've been wondering about the title of this post: the 2CV is nicknamed "Ente" (duck) in German.

While digging through my picture archives, I became aware of having many pictures that have one thing in common: matching color schemes. It really is interesting how some color combinations can be found whichever country you go to. This week I'm going to feature a selection of pictures containing the bright colors Yellow & Blue.
To make it more interesting, the pictures are sorted by age, starting off with the oldest and progressing to more recent shots during the week. Three topics are going to be covered every day: matching backgrounds, race cars and other vehicles.
Day two | Matching backgrounds
The Toyota Hilux Bakkie pictured here might have blue lettering on the door, but I choose the photograph because the sky provides a spectacular background to set off the 4×4, descending a steep hill at Kallies Quarry.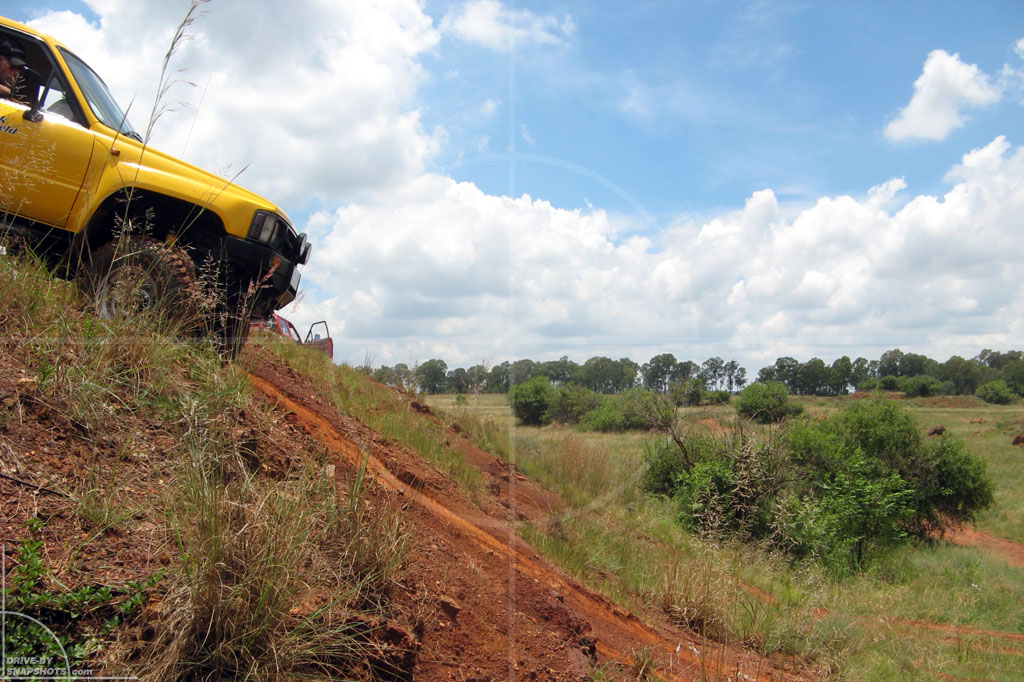 The nicely weathered locomotive is resting near Hartbeesport Dam.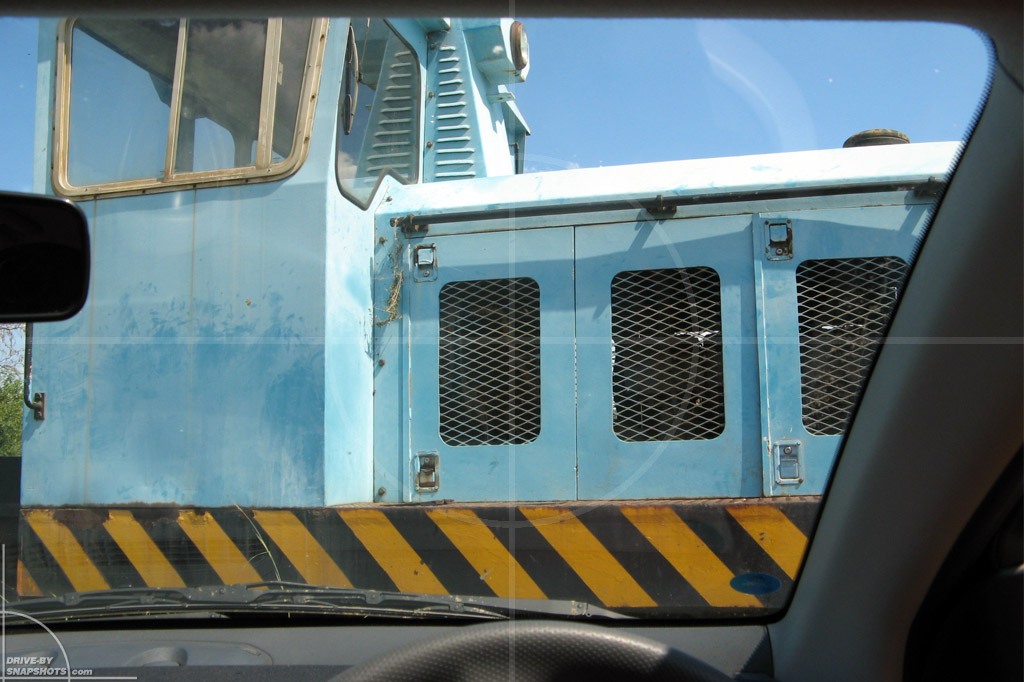 Day two | Race cars
Europeans will think they see a SEAT Ibiza with a wrong grille – but this vehicle was indeed branded and sold as a Volkswagen Polo in South Africa! I found it at Zwartkops raceway, just like the Porsche 924 yesterday.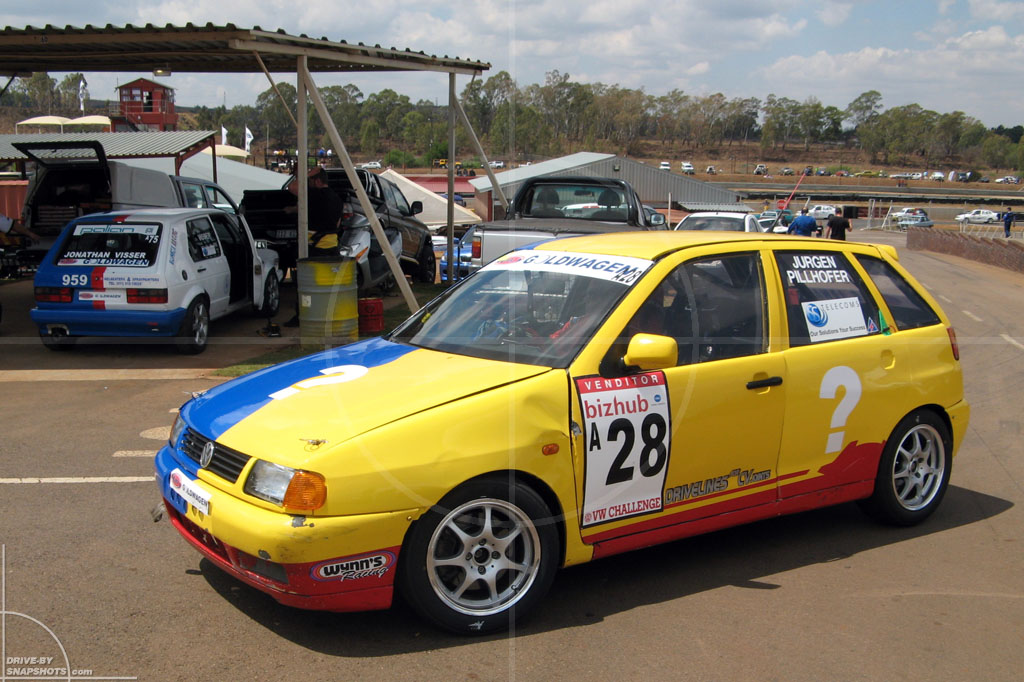 This FIAT Panda 4×4 lives in the Auto & Technik Museum in Sinsheim / Germany. The little gem easily won it's class at the 1983 Rallye in Algeria and competed in the Paris Dakar Rallye. If you are interested in the background story, check out what the builder and driver has to say.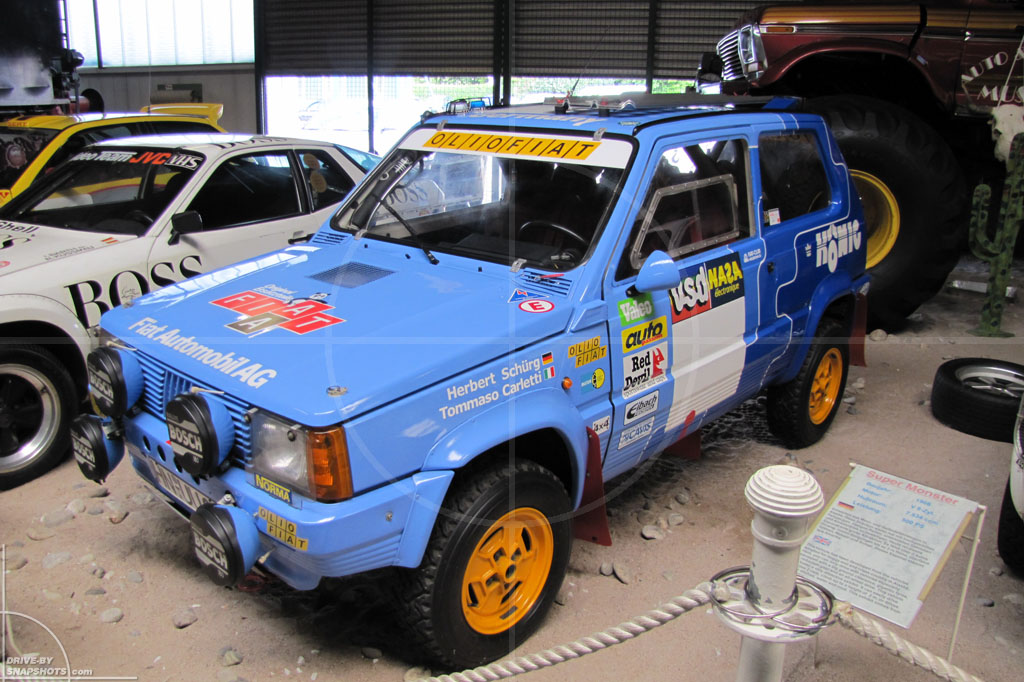 Day two | Other vehicles
For some reason or another, many Italians like to wear mirrored sunglasses. Well, this Italian living in South Africa is no exception – and the blue sky almost make the window tint look blue…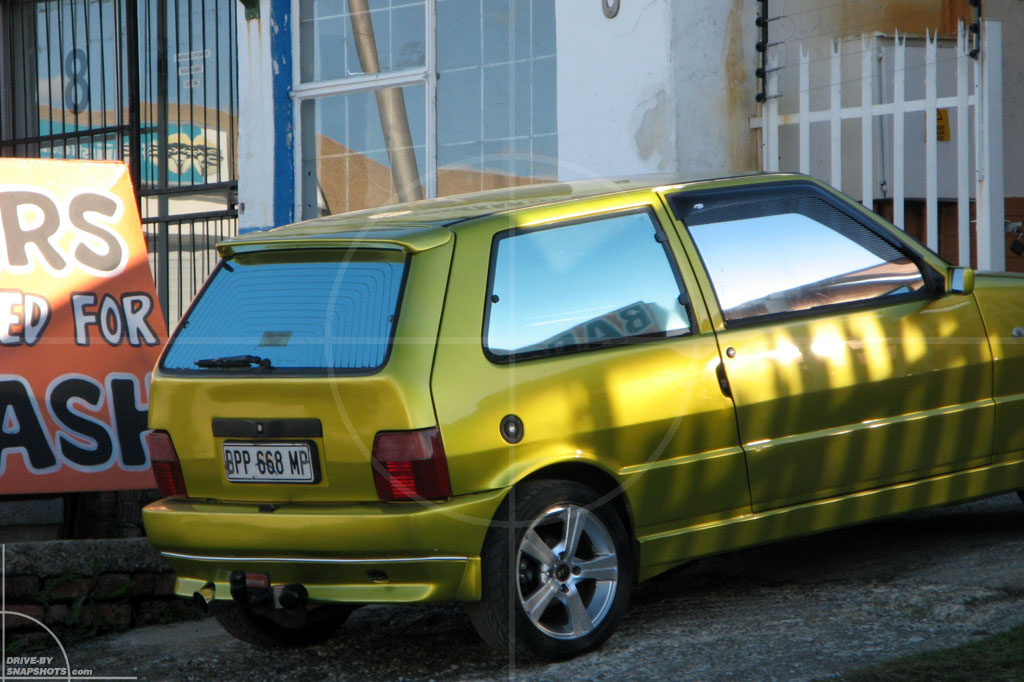 Arriving in Durban later that day, we found a matching Toyota Hiace Siyaya Taxi. The window wasn't tinted, though, but rather wrapped in clear kitchen foil.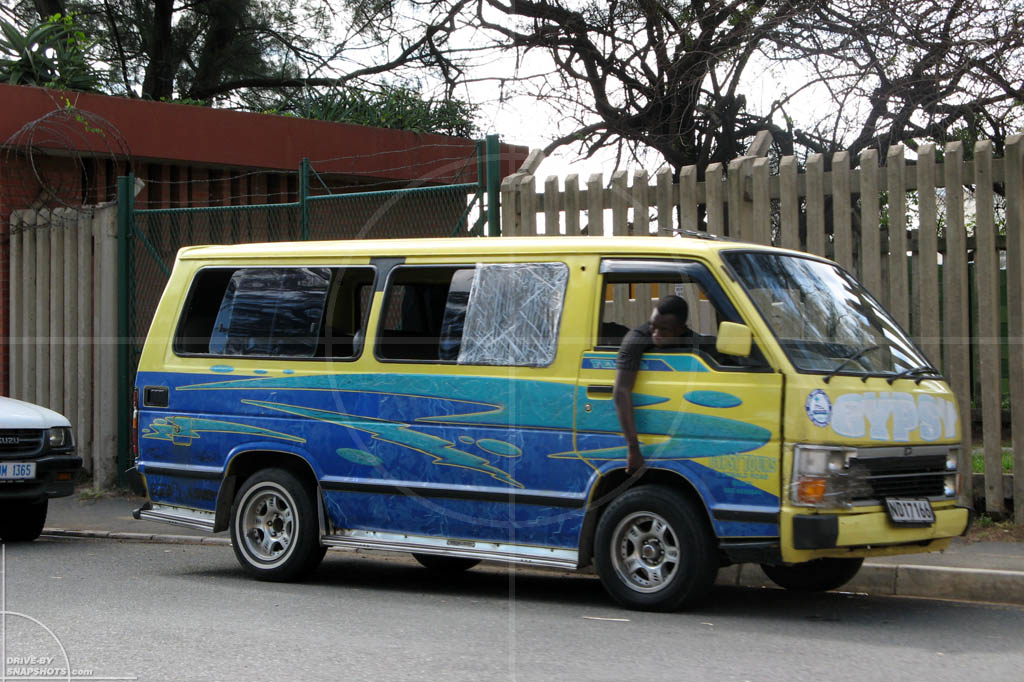 And last but not least, how about a Citroën 2CV which looked like it was specifically painted in these particular colors, only to be featured here at Drive-by Snapshots Yellow and Blue Color Week…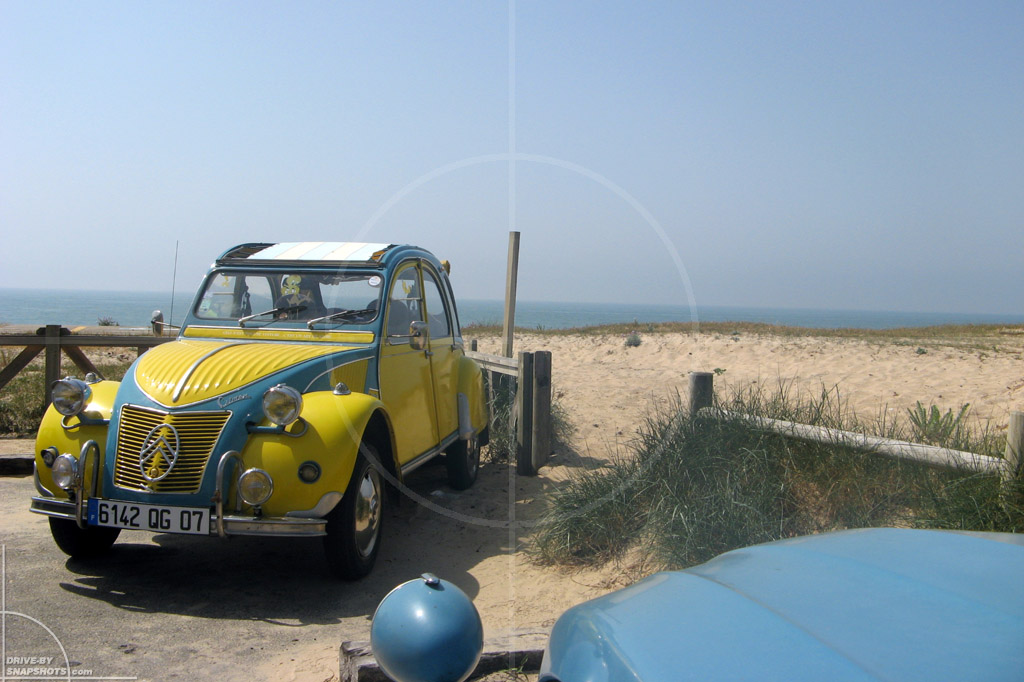 Worldwide the Citroën 2CV unites many enthusiasts. There are plenty of clubs and interest groups. They even organize huge meetings each year, one of which I visited in 2009 in Lit-et-Mixe while being on a surfing holiday nearby. But wait… the 2Cv has a sister even most Citroën enthusiasts describe as being rather… ugly.
Read More

»

Deux Deuches Custom: A pair of Citroën 2CV at the beach in Cap de l'Homy – modified beautifully in the typical and tasteful French customizing style. The best paintjobs I have ever seen on a 2CV, absolutely spotless! On the red/pink 2CV I especially like the widened fenders that are integrated nicely into the flipfront. The deep dish steelies are a great touch as well.
Read More

»

At first glance this might be a vintage something-or-another. And even at the second and third glance most people will still be fooled. If you look closely, you might spot a few hints here and there: three lug wheels and familiar headlights. But only if you open the hood does it dawn on you, that this might not be that vintage at all. This vehicle was actually built in 2007! The base is a classic Citroën 2CV, that has been extensively modified by the Burton Car Company in the Netherlands. This is the most elegant 2CV conversion ever, in my opinion. I just love the attention to detail and the tasty color combination. Well done, guys!
Read More

»


Easter weekend 2013. Having a full day to drive from San Sebastian to Porto provided me with the much loved opportunity to leave the boring Autopista and explore the country on rural roads along the Camino de Santiago. I entered a town somewhere between Burgos and León early afternoon, soaking in the blue sky and the sun after a very long and dark winter. Nobody around, no wind, no sound. Absolute silence, not even a bird singing. The Citroën 2CV just sitting there under the blue sky. Taking a picture almost felt like disturbing the peaceful siesta. ¡Perdón!
Read More

»


The Citroën 2CV got it's name from the French taxing system. Deux Chevaux (2CV) meaning two (tax) horsepower. While driving through the south of Spain in 2013, we found one that featured the name on the bonnet, quite literally.
Read More

»