Renault

Six years ago I discovered a Willys MB Jeep with a Renault 4 body conversion and took some pictures.
Two and a half years ago I started to write this blog and decided to kick it off with the story about the converted Jeep.
A week ago, on a roadtrip home from Malaga, we spontaneously decided to cross the Massif Central instead of driving through the Rhône valley.
While driving through the Gorge du Tarn from Millau, memories kept popping up inside my head. Thoughts about my then-girlfriend, the surfing holidays we came back from, the chambre d'hôte in Millau we stayed at and the car we were traveling with: my 1989 Mercedes-Benz 190E 2.3. Good old times.
This time around, I was traveling with a good friend in a 1988 Toyota LandCruiser HJ61. The ride was a lot more agricultural compared to the W201 and because of that, I suddenly remembered shooting pictures of the R4-bodied Willys somewhere between Saint Enimie and Le Puy. This instantly sparked my desire to look if the Jeep was still there. And guess what – we arrived at the gas station in Châteauneuf-de-Randon and the field next to it was empty. But hey – asking is free and I never give up just like that.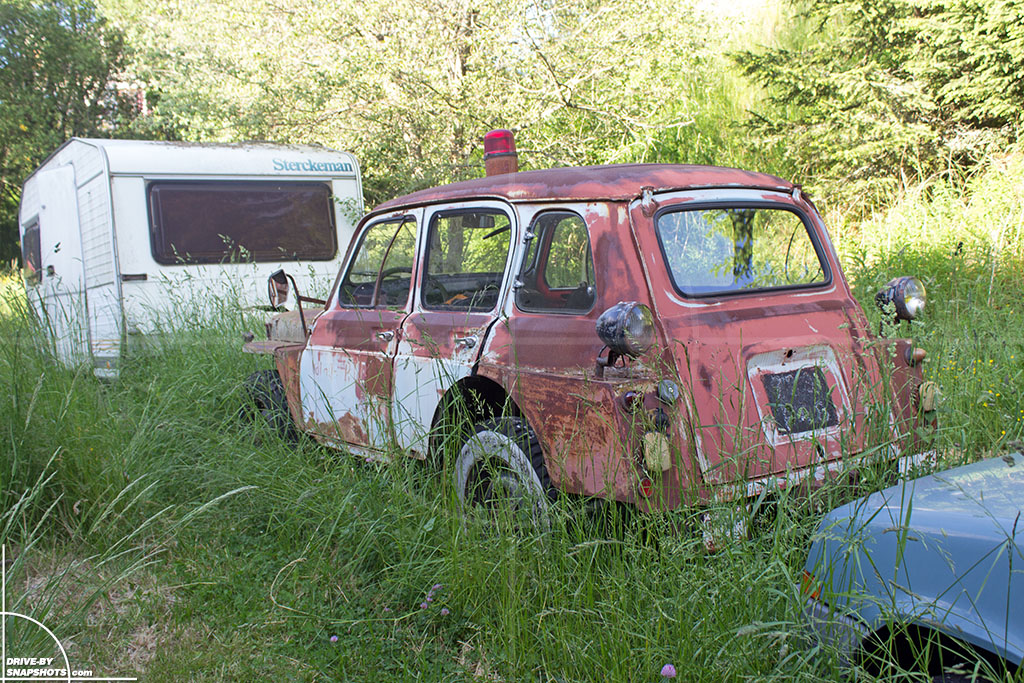 David, the owner of the gas station and Renault dealership Sarl NEGRE is a very friendly fellow and told us that his dad built the little truck decades ago. My guess on the conversion wasn't too far off back then. It was actually never used by the local fire brigade but did years of reliable duty towing cars in the area. Davids father added the Renault 4 body to keep warm and dry in winter. If you look closely, the old livery is still visible. Gotta love the patina!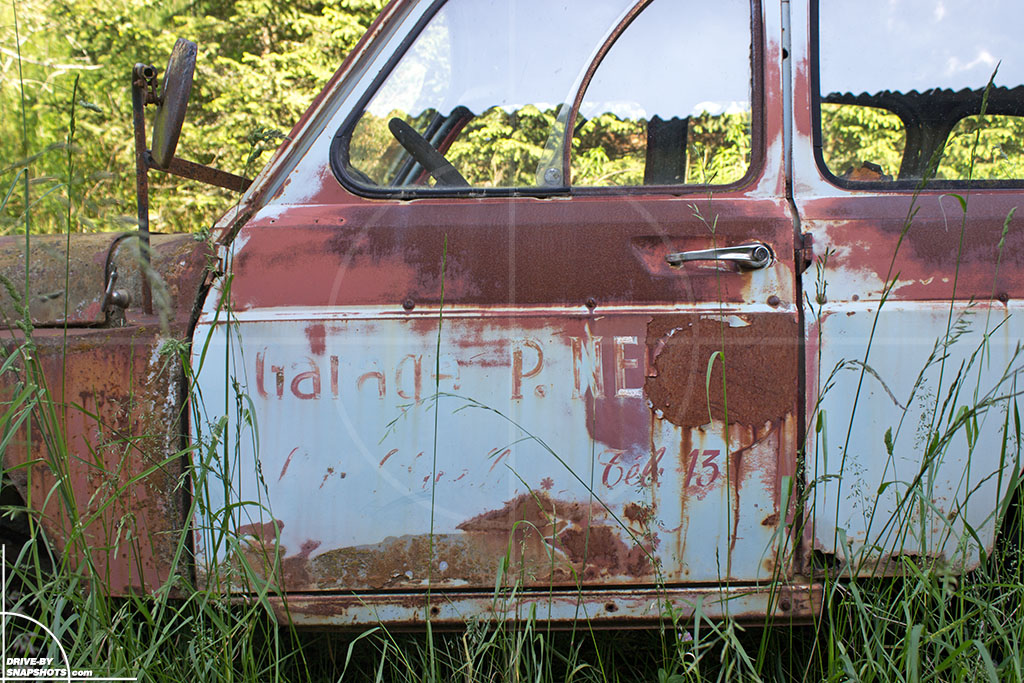 It surely must be rather quiet in an area with two-digit telephone numbers. This could possibly be the reason why the blue Renault 5 in the background only shows 6.000 km on the odometer! Seems like it didn't get driven around much.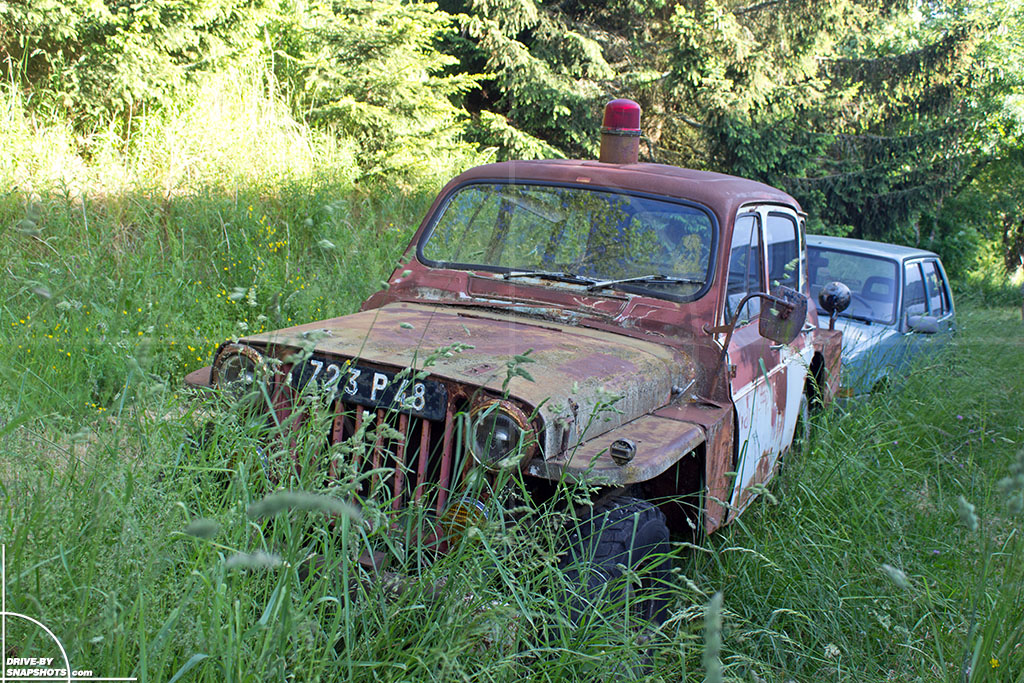 Living in a quiet area does have some advantages, though. It's amazing that the car has not been vandalized in the decades it has lived outside.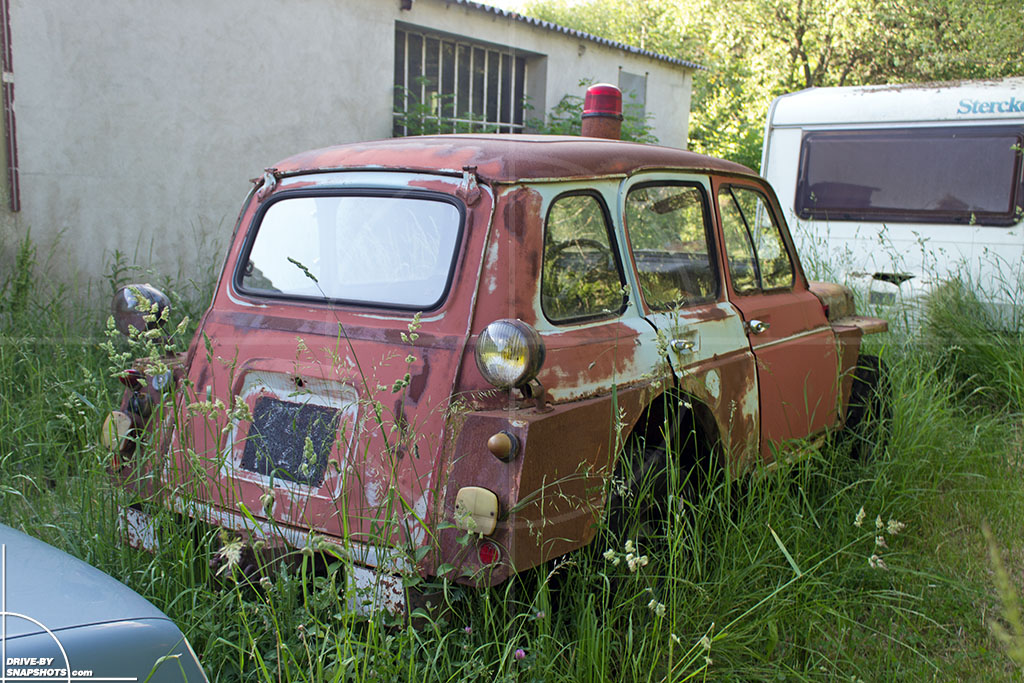 I really hope it will still be there when I visit the next time – whenever that is going to be. Until then: rust in peace.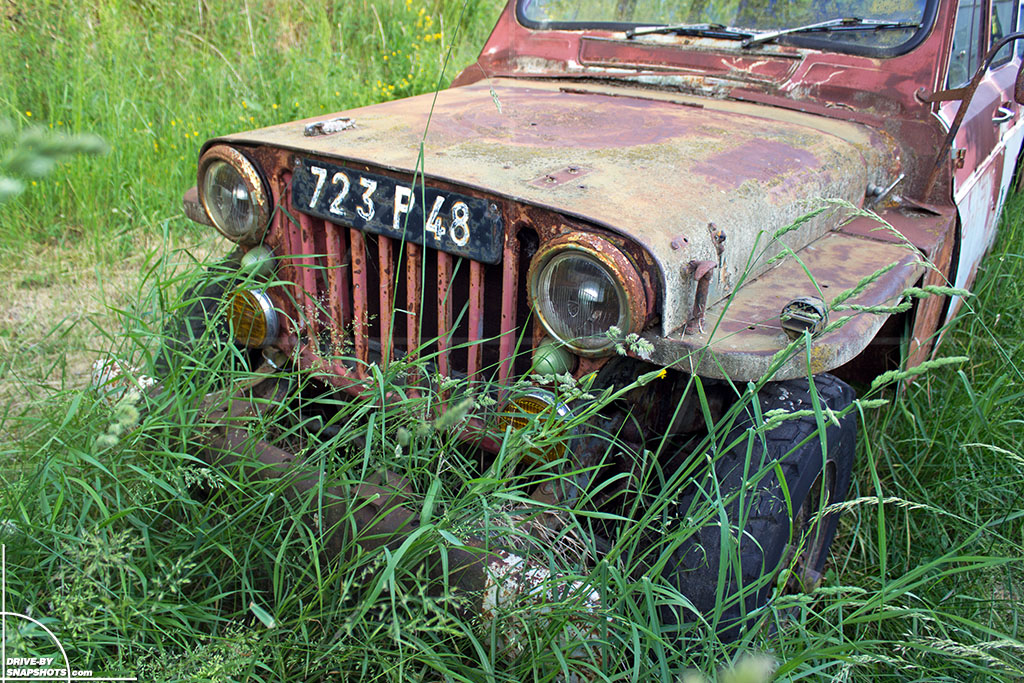 PS: David kindly showed me the other truck his father build. And let me tell you one thing: it is equally genius and even more impressive. Come back soon to read about it in the Drive-by Snapshots post. Meanwhile, enjoy reading how Guido Kehder (Die Leitplanke) built a 1:24 scale model of this vehicle.
[Edit: Here is the new link to the above mentioned article.]


When was the last time you found something not only totally unexpected, but also thought to be extinct by now? Trundling along the Route Départementale D27 at a leisurely pace on a hot day with no cloud in sight, we had a moment just like that, when we found the cutest rural petrol station and workshop. The icing on the cake most definitely was the color-matched Renault R5, which made the scene even more unreal.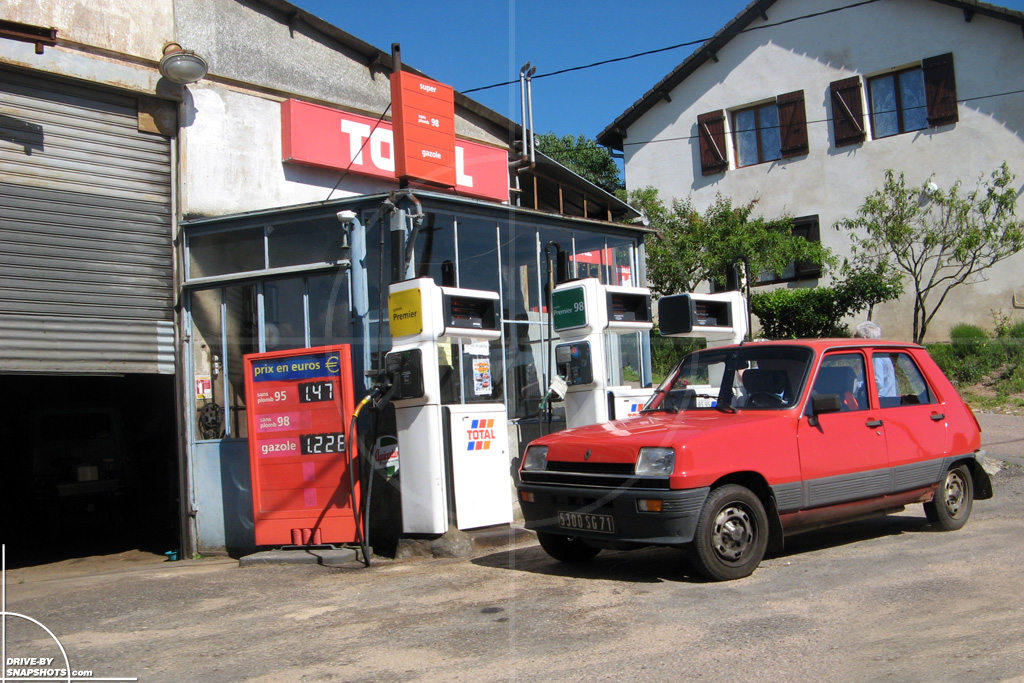 The TOTAL pumps have been updated at a certain point, but everything else was like "back in the old days". The little office, the workshop and the old lady filling the cars. Mind you, this is no self-service station! You pull up to the pumps, which are located right at the curb, and the old lady eventually emerges from the house on the other side of the road. To experience this kind of time travel is nothing short of amazing and well worth the extra time. The mighty W201 still had more than half of a tank to go, but I wanted to stop and buy fuel there in order to #supportlocalbusiness.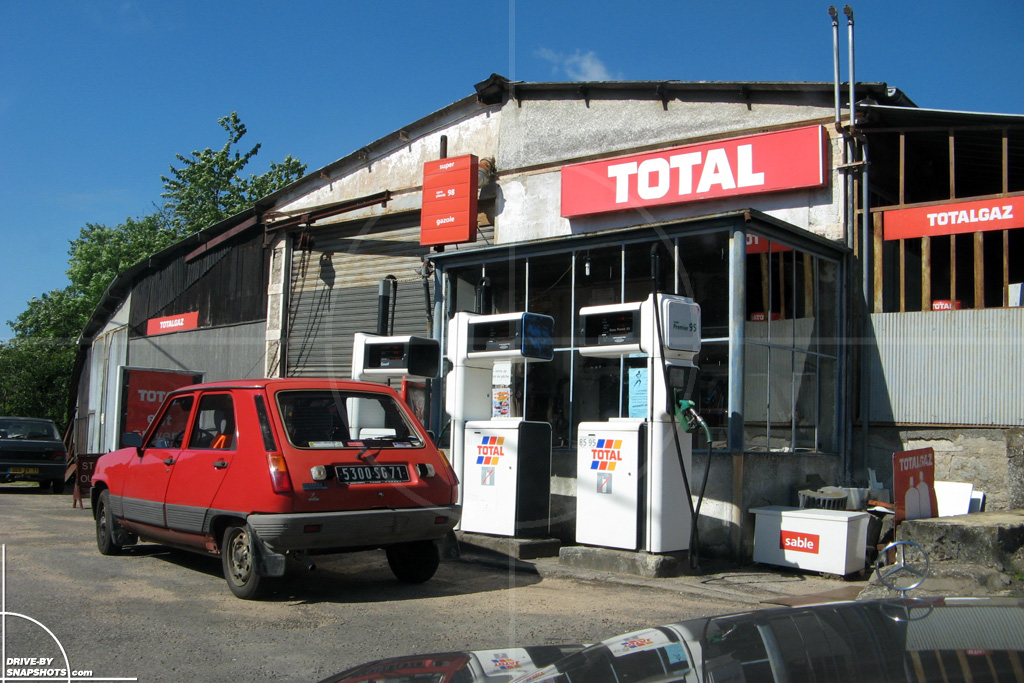 The choice of payment methods was quite old-school as well: cash only. And as I was fumbling to get those Francs… err… Euros out of my wallet, I suddenly realize that people back then had more of something that is often scarce nowadays: time. Time to drive slow. Time to chat with the fuel pump attendant about the weather and which Boulanger makes the best Baguette. Lovely idea, no?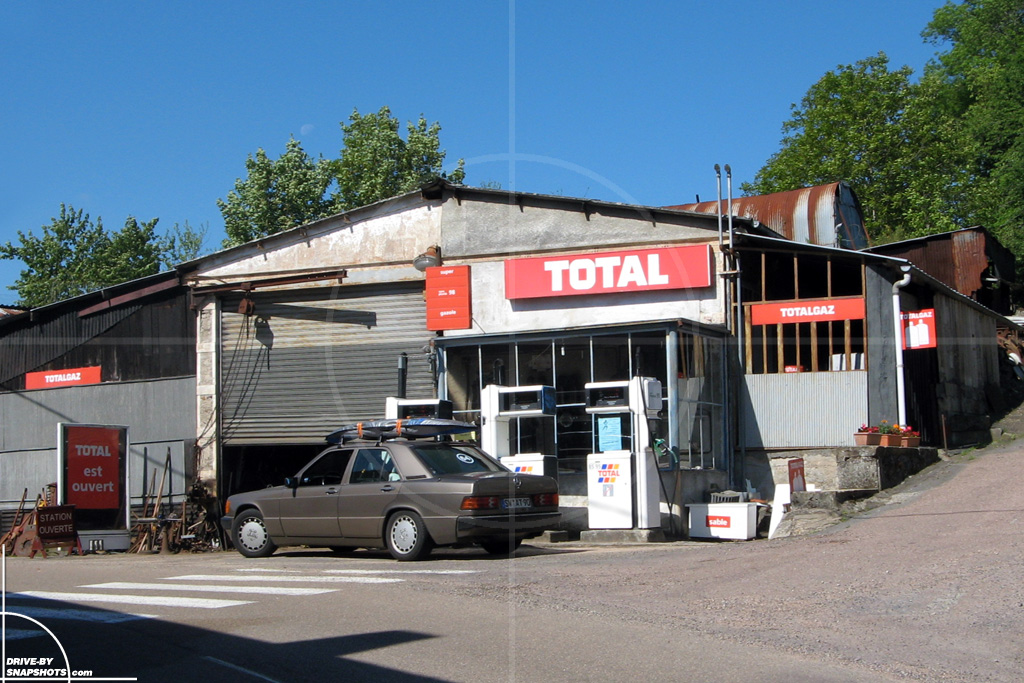 Now, five years later while writing this article, I was wondering if the cute little petrol station is still in business. Well… you can find it on google Streetview, but the images have been also captured in 2010. I guess I need to take the time to go there again and take a look…

While digging through my picture archives, I became aware of having many pictures that have one thing in common: matching color schemes. It really is interesting how some color combinations can be found whichever country you go to. This week I'm going to feature a selection of pictures containing the bright colors Yellow & Blue.
Read More

»

While digging through my picture archives, I became aware of having many pictures that have one thing in common: matching color schemes. It really is interesting how some color combinations can be found whichever country you go to. This week I'm going to feature a selection of pictures containing the bright colors Yellow & Blue.
Read More

»


Imagine a sizzling hot day early in June, with temperatures well over 30°C and no wind whatsoever. We are cruising through the pine forests between Biarritz and Bordeaux at a leisurely pace with the windows and sunroof wide open. The loudspeakers of the trusty old Mercedes play a tune most Germans immediately associate with childhood memories of family summer vacations.
Read More

»


Sometimes, coincidences are funny. While finishing this blog post for publication, a friend sent me a link to an article over at speedhunters.com. Keith Charvonia wrote a great piece about finding project cars in the local neighborhoods of Tuscon, Arizona. I really love the article, because it described exactly what I've been doing for the last decade and a half: taking pictures of cars found along the roadside, without actually getting out of the car. Here is what I found during a one-week trip in South Africa. Albeit shot in various locations, all the pictures have one thing in common: the cars are parked under a tree.
Read More

»


Driving through central France. Cloudy skies with the odd rain shower now and then. An uninspiring town along the road. A boring Renault dealership. Wait! Boring? No way! Around the back, they had something interesting: A Renault 11 Turbo Rallye replica. I always like to see the simple, yet striking, designs of an era long past. Make sure to check out the video further down in this post, as it features a couple of these legendary machines.
Read More

»

RD 6089 near Terrasson-Lavilledieu, on a grey morning. Cruising along with the local traffic… I spotted something based on the Renault Trafic on the side of the road: the Winnebago LeSharo. I have always liked how the French design of the base vehicle integrates well with the American style camper body. If you look at other Winnebago motorhomes of the same period, you can even see a familiar resemblance. Being flanked by a US-spec Peugeot 504 Break was a nice coincidence. The dealer had many other interesting vehicles for sale, some of which you will sooner or later find here at Drive-by Snapshots.
Read More

»


Biarritz, France. A beautiful sunny and warm day in spring. I was driving around randomly, looking for interesting things to take pictures of. Finding the old Château d'Ilbarritz by chance, I hiked up the hill to have a closer look. Quite an impressive building, overlooking the Atlantic Ocean and the Biarritz Golf Course. Peeking over the fence was rewarded by a nice surprise: two classic cars enjoying the early summer sunshine, completely undisturbed. An 02-Series BMW and a Renault R4, both early models with more chrome trim than the later models.
Read More

»


Finding this little gem in Hossegor was a treat. The silver of the Renault 5 A5 Turbo matched the orange in the background perfectly. Looking at the picture again recently while resizing it and adding the watermark, I discovered something in the picture that I had missed previously: the store is called HIP UP – and the little girl is sitting up on daddy's hip. Funny coincidence, isn't it?
Read More

»


Advertising is sometimes… weird. Create a new version version of a Renault 16 called TS, add a Le Mans racecar sticker to the rear window and a set of extra headlights. Et voilá – you have a sporty version of a rather sedate family car with plenty of roll in corners. Don't forget to add elf oil and wear fancy sneakers – for that extra sporty pedal feel 😉
Read More

»


On our way to a wedding in France we opted to take the more scenic Routes Nationales. Driving two days instead of one and taking pictures of interesting things on the way is just so much better than trundling along on the boring Autoroute at 130 km/h. Entering the tranquil town Andelot-Blancheville we found the central plaza full of interesting classic and vintage vehicles, one of which was this Gordini blue Renault Alpine A110 in front of the Hotel-Restaurant Le Cantarel. I especially liked the perfect color-matched parking. Look closely and you will find hints of future posts in the window reflection of the restaurant.
Read More

»


One day in February 2011 I drove through an unfamiliar town in the Rhön mountains. I spotted the familiar shape of an Alpine A610 and immediately thought I should make a U-turn and stop quickly to check it out. To my surprise I found even more Alpine goodness that made me drool. It seems like the proprietor, Axel Reß, knows a thing or two about the beautiful French sports cars. There have been quite a few awesome cars and engines in the showroom. Unfortunately the shop was closed that day and there was nobody around to answer a few questions. I should actually go back there some day…
Read More

»


In June 2010 we took the scenic route through the Gorges du Tarn. Climbing out of the canyon and heading towards Le Puy, we drove past a service station somewhere in the rural Département Lozère. As always, I immediately slowed down to take a closer look and was once more rewarded by finding something rather unusual: a leftover WWII Willys MB Jeep that has been cross-bred with a Renault R4. The bodywork of the conversion looked very professional and is actually very clever, because the region sees a lot of snow in winter. Judging by the faded red paint and the rotating light on the roof, it might have once belonged to the local fire department. The markings on the left door indicate that it may have been used by the local garage as well, probably as a service or recovery vehicle?
Read More

»