Toyota

"Everyone says Toyota is the best company in the world, but the customer doesn't care about the world. They care if we are the best in town, or not. That's what I want to be." Akio Toyoda
Mr. Toyoda-san was proven right in 1979 when a customer decided to buy the best car in town. He or she could have chosen something entirely else, but for some reason or another this plain white 2-door Toyota Carina TA20 got picked.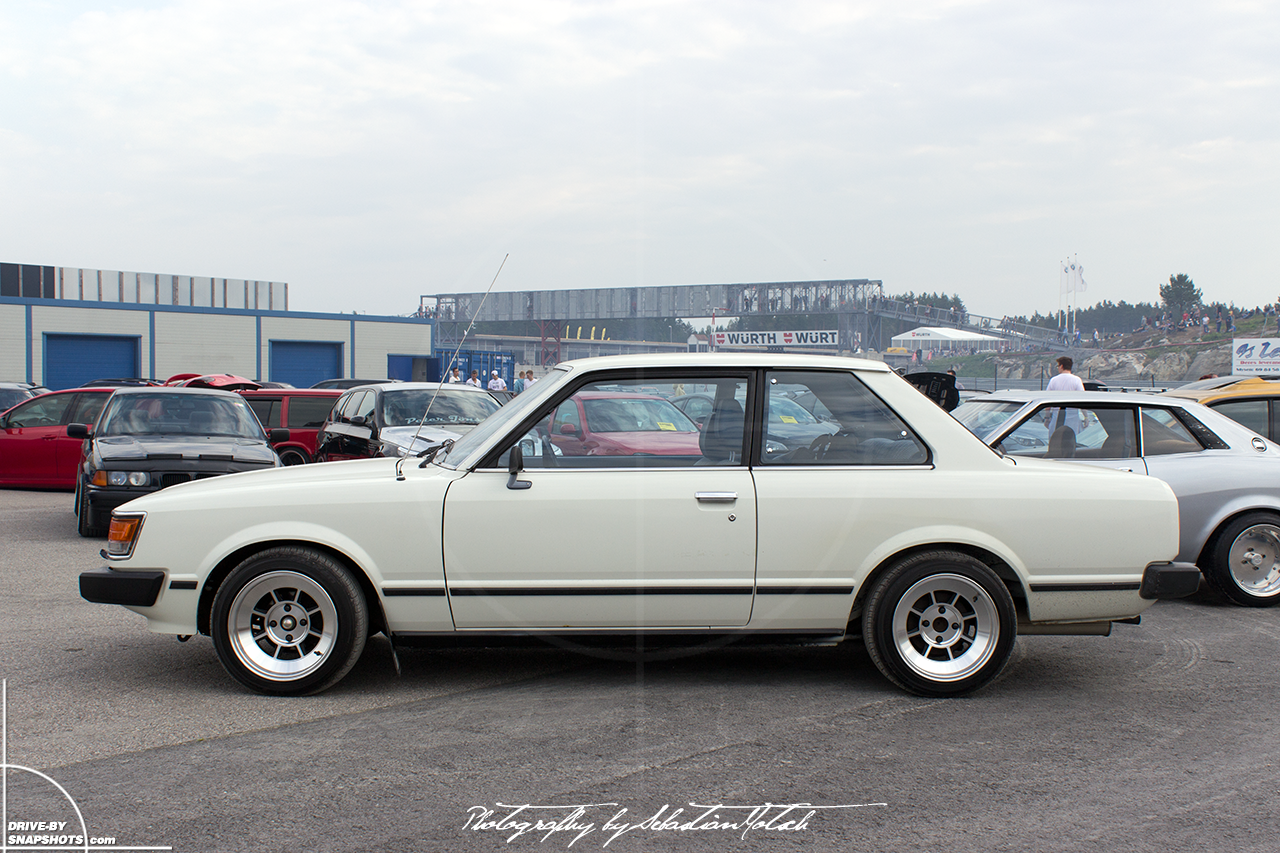 In the late 70's and early 80's nobody thought about leasing or buying a car for just a few years and getting rid of it as soon as the warranty period ends. Purchasing a new car was a long-term decision. Unfortunately the ugly monster called rust often killed this generation of vehicles prematurely. Mechanically they rarely (if ever) failed.
Only a few pristine cars are left now. This one is a prime example and has obviously been well cared for in the last 30+ years. So if you think about Carina being an old lady you are trusted to care for – what would you do? Buy her some make-up and jewellery?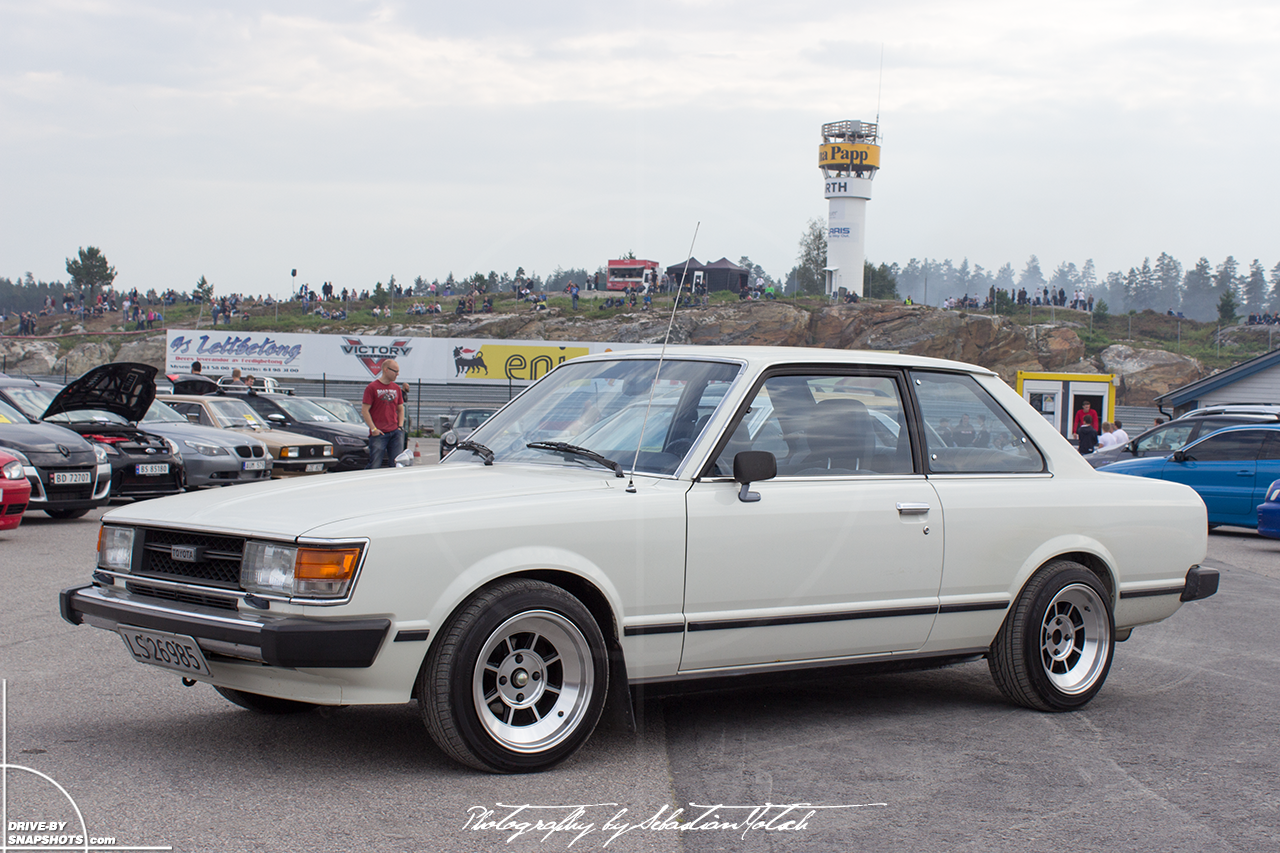 No, because a natural beauty doesn't need that and it would only distract from her charm. Rather buy her a set of new shoes in a classic design and lower the center of gravity so she can safely get to all the destinations. Well done Kenneth Groth!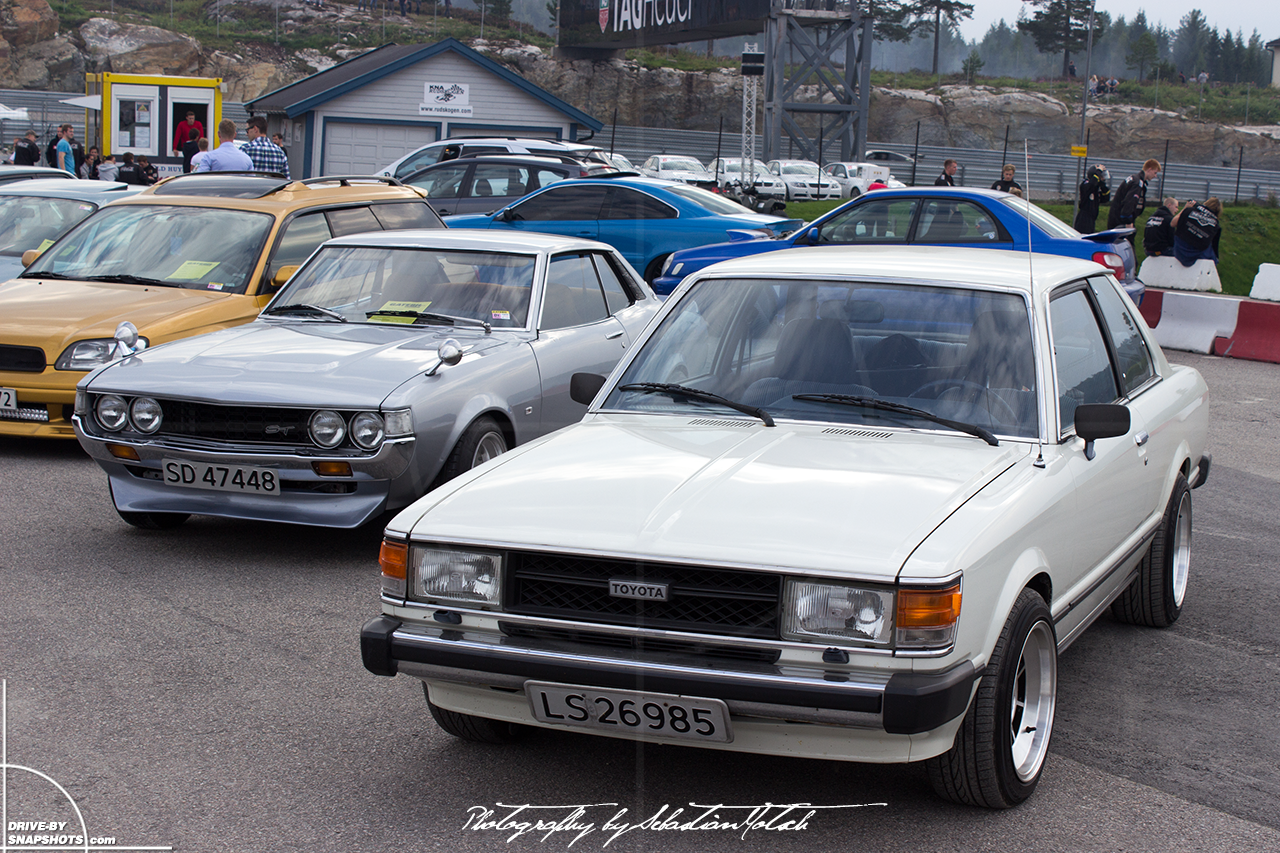 The classic wheel design and not too much lowering is all she needs. The gracefully aged lines are not only complemented perfectly but at the same time very nicely accentuated.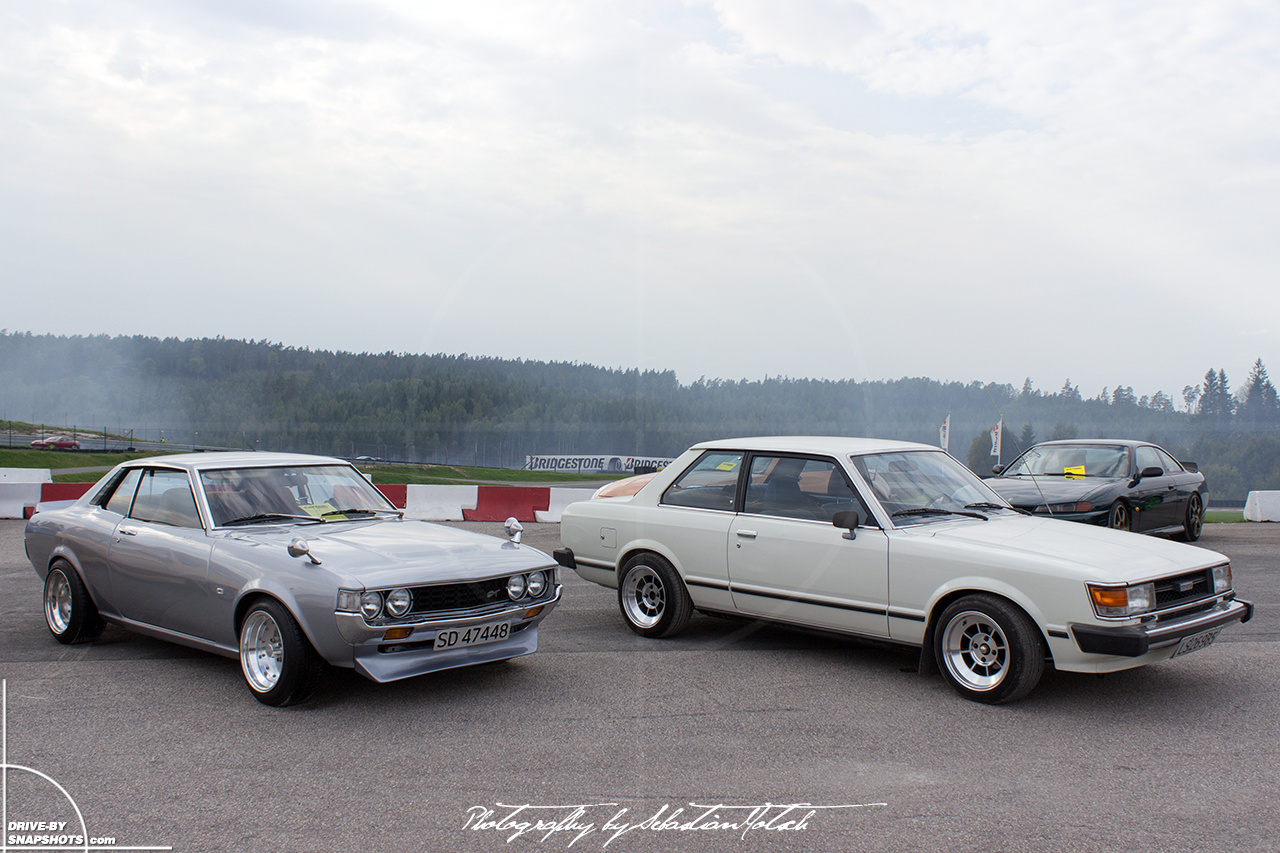 The Toyota Celica TA22 parked next to the elegant old lady has been treated similarly, but with a much sportier approach. Chin and trunk spoilers complement the period-correct wheels and the fender-mounted mirrors complete the athletic look. What a beautiful pair – both of which don't scream "look at me" but rather invite you to silently enjoy the fine chrome details. Imagine the stories these ladies would tell if they could speak.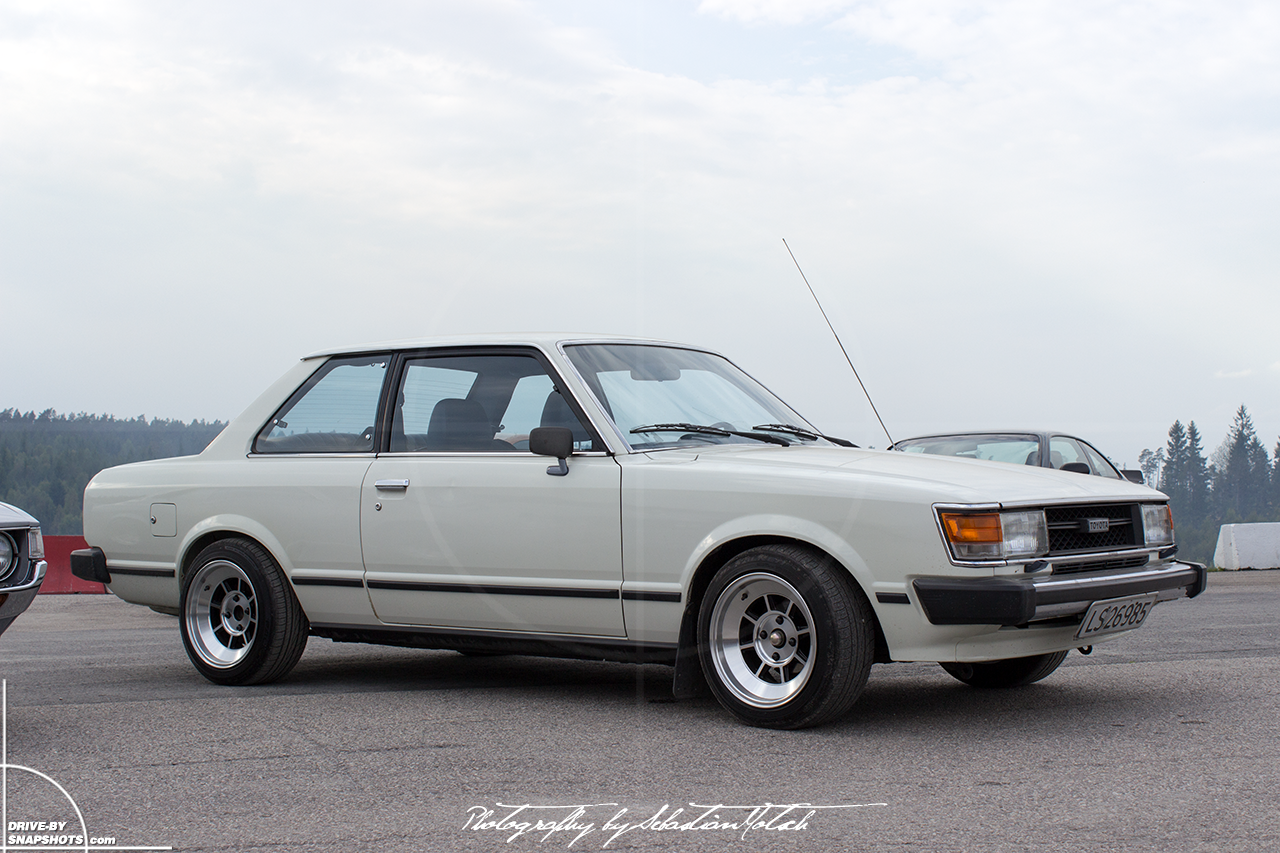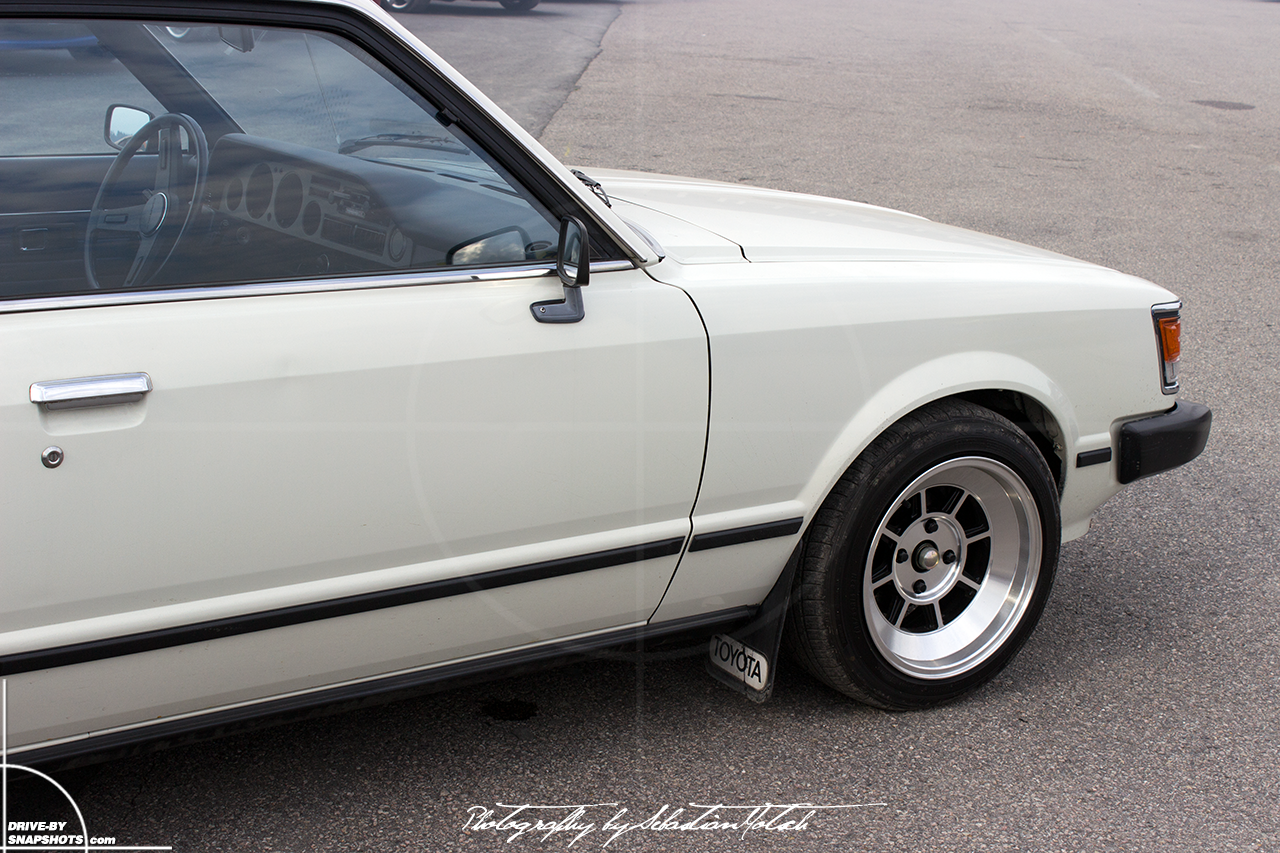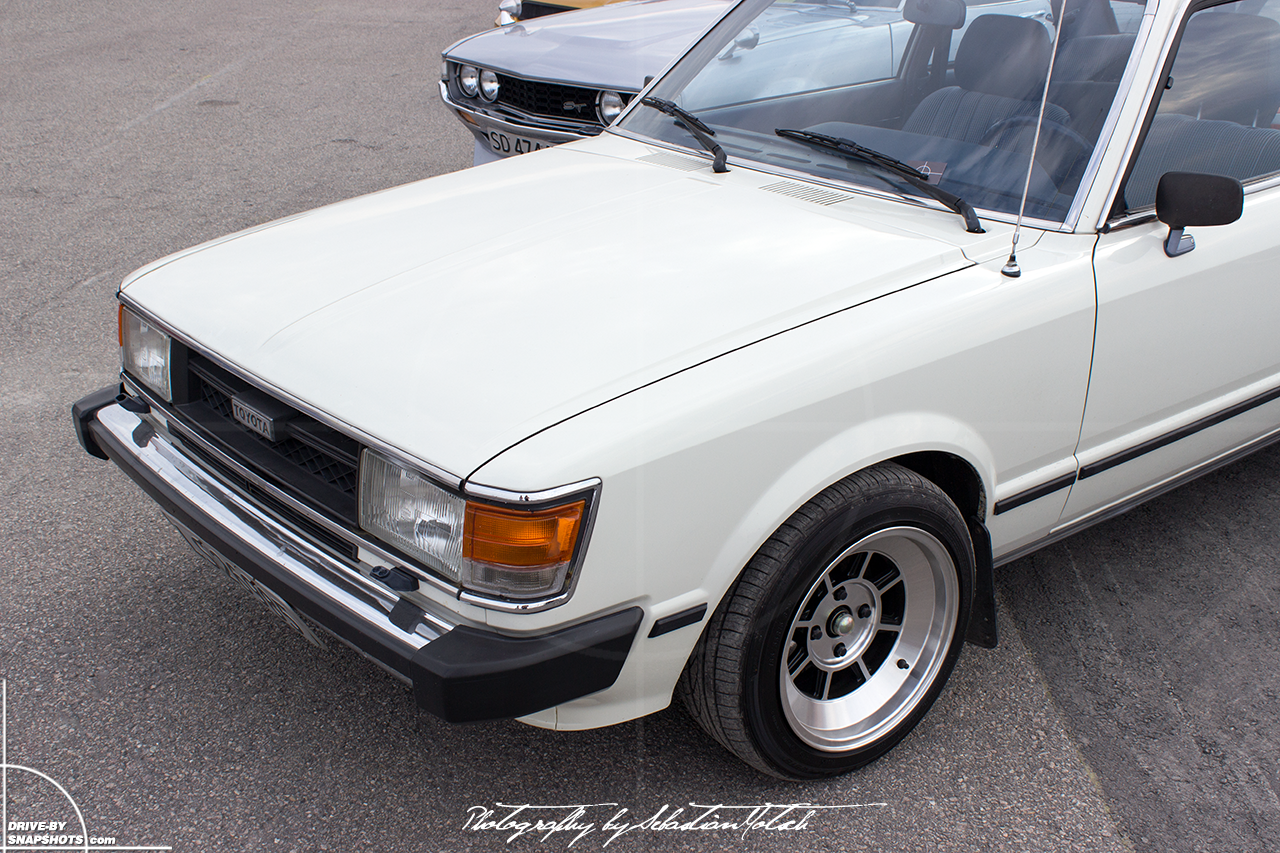 Since Kenneth trusted somebody else with taking care of her about a year ago, I can only hope she is still doing well.

While wandering about near the Sultans' Palace in Muscat, Oman, we spotted something we didn't expect at all in this part of the world. Now who would ever look twice at an E100 series Toyota Corolla? Yeah, right. Nobody would. But because this particular vehicle wasn't painted white and sitting there sporting not only a mild stance but also a perfectly fitting exhaust tip, we casually took a second look. This really is a nice, understated daily driver that could paint a smile or even a big grin on your face while commuting to work.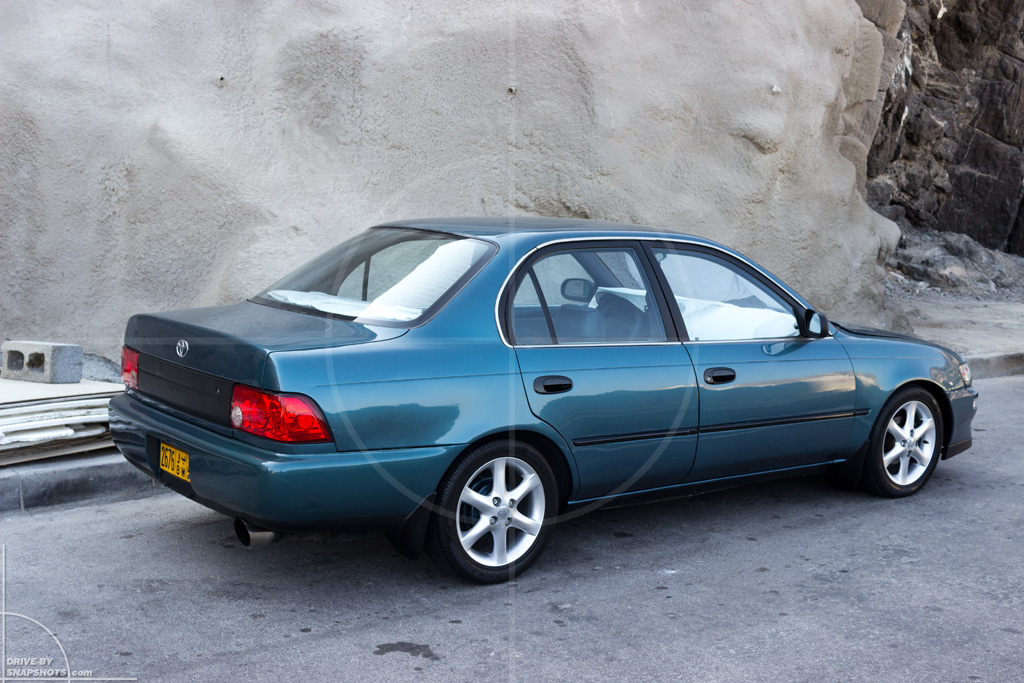 No body kit, no wing, no flashy alloy wheels. The owner just kept it simple and accentuated the clean lines of his Corolla which, in my book, makes it even better and a perfect sleeper. Unfortunately the owner wasn't around to answer any questions. Therefore we could only guess what might be hiding under the bonnet.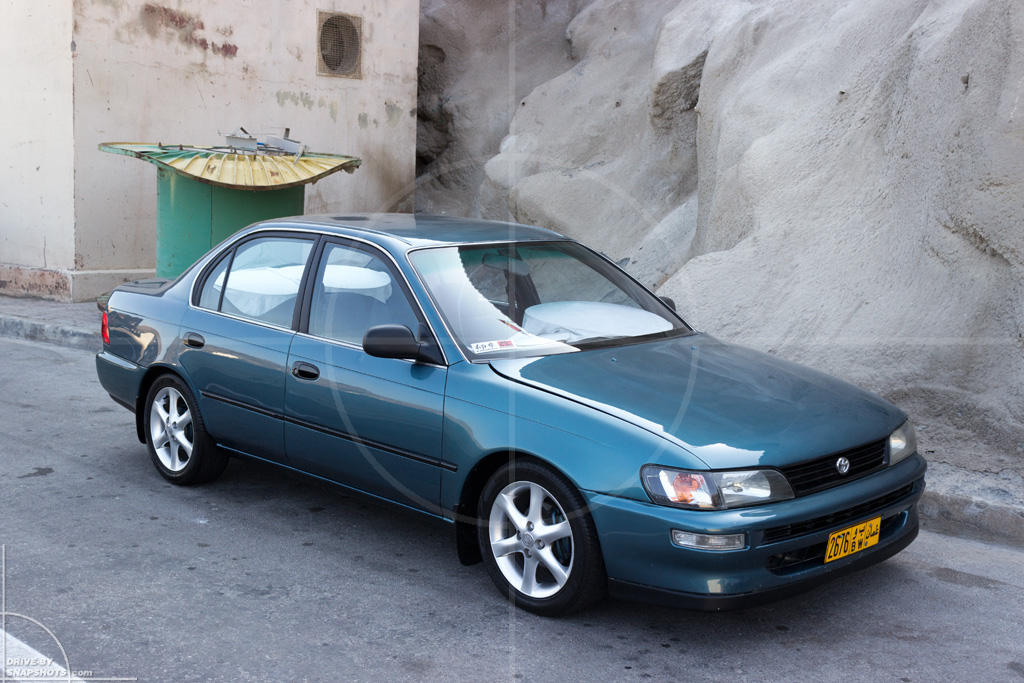 My friend Florian, who has worked for RECARO in Japan for a number of years, recognized the Kakimoto Racing sticker on the windscreen and told me that it is a well-known tuning shop in Japan. So far so good… but how odd are the chances to see a Kakimoto Racing equipped LHD(!) Corolla in the capital of Oman? This proves time and again, that you have to look behind the scenes. There might always be a little gem hiding in an alley somewhere.
PS: The bonnet is not misaligned. An Omani gentleman told us, that it is adjusted with spacers to make cooling the engine bay easier on hot days.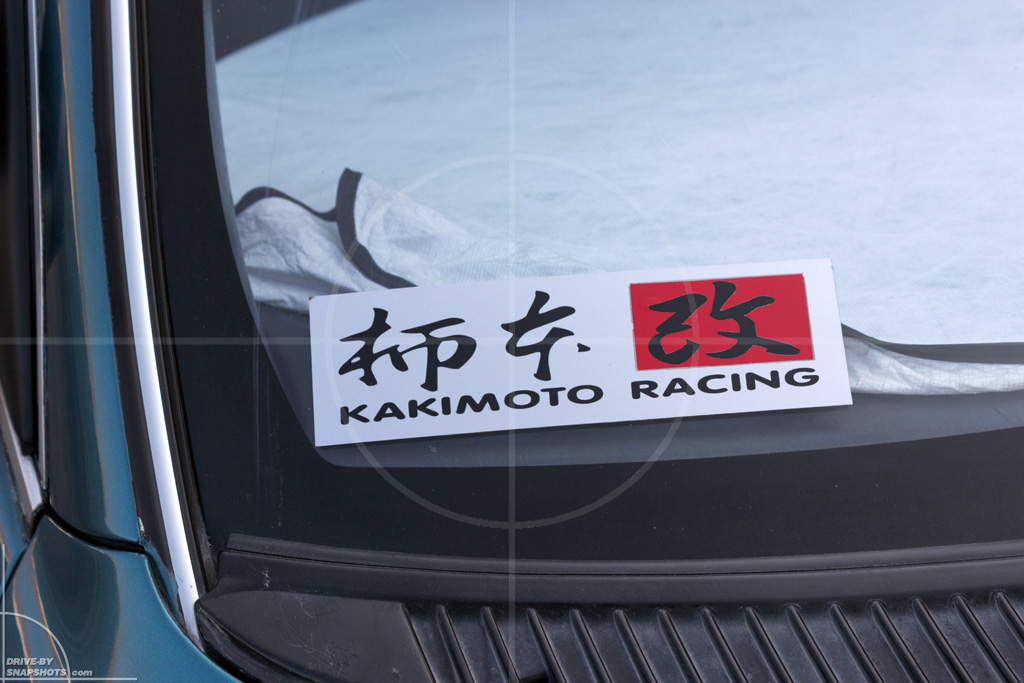 Imagine you're driving along a brand new and perfectly fine highway which, without prior warning, abruptly ends at a beach. Mind you, the beach was not the intended destination!
Read More

»

While digging through my picture archives, I became aware of having many pictures that have one thing in common: matching color schemes. It really is interesting how some color combinations can be found whichever country you go to. This week I'm going to feature a selection of pictures containing the bright colors Yellow & Blue.
Read More

»

While digging through my picture archives, I became aware of having many pictures that have one thing in common: matching color schemes. It really is interesting how some color combinations can be found whichever country you go to. This week I'm going to feature a selection of pictures containing the bright colors Yellow & Blue.
To make it more interesting, the pictures are sorted by age, starting off with the oldest and progressing to more recent shots during the week. Three topics are going to be covered every day: matching backgrounds, race cars and other vehicles.
Day two | Matching backgrounds
The Toyota Hilux Bakkie pictured here might have blue lettering on the door, but I choose the photograph because the sky provides a spectacular background to set off the 4×4, descending a steep hill at Kallies Quarry.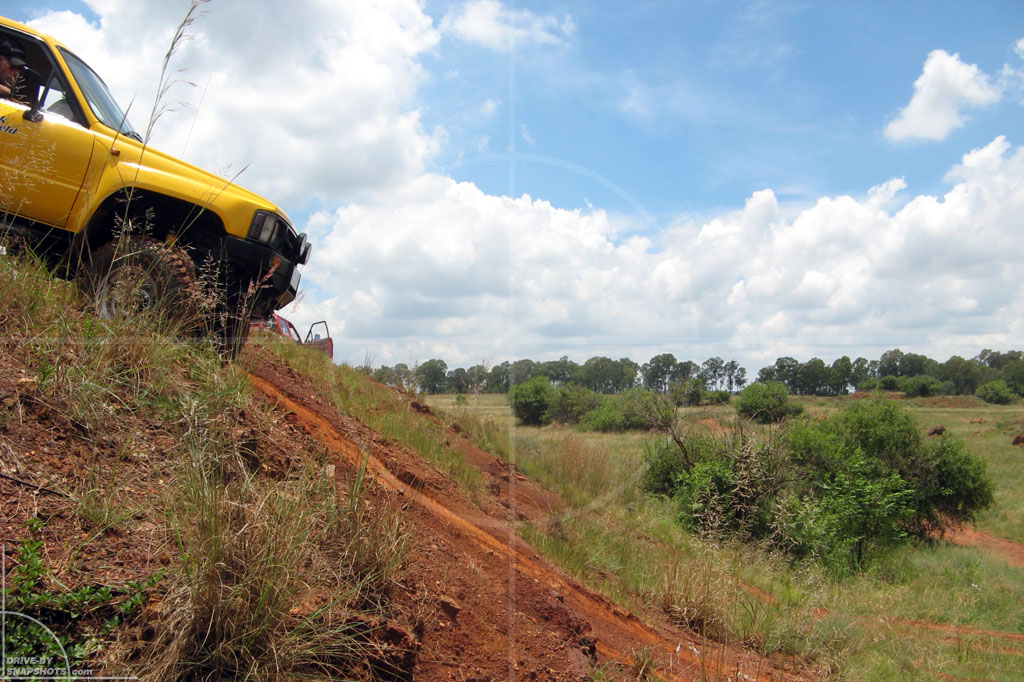 The nicely weathered locomotive is resting near Hartbeesport Dam.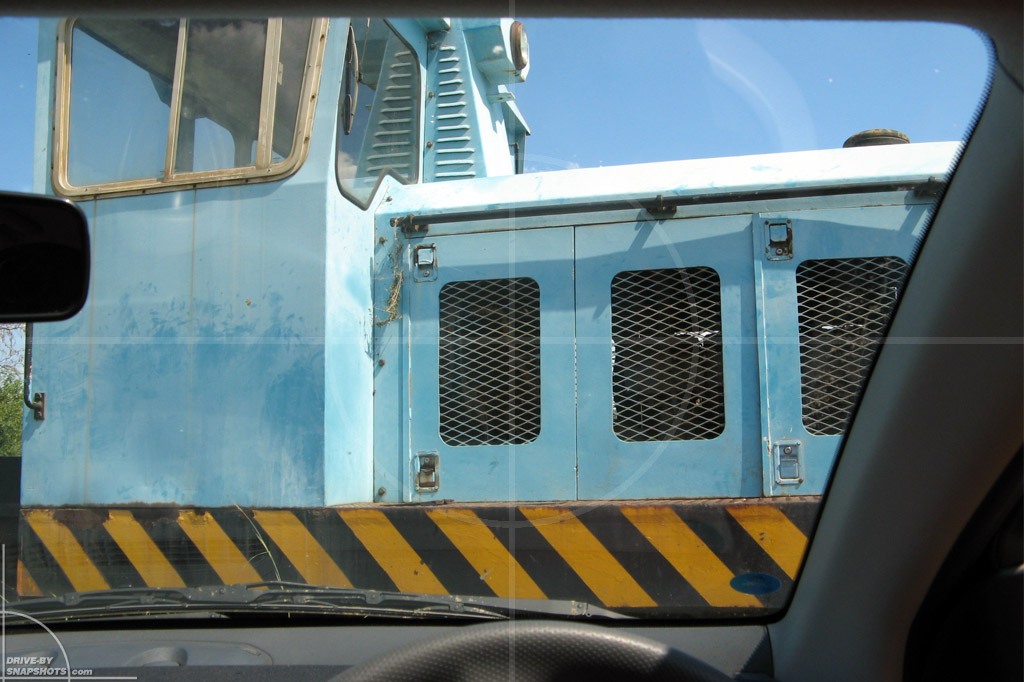 Day two | Race cars
Europeans will think they see a SEAT Ibiza with a wrong grille – but this vehicle was indeed branded and sold as a Volkswagen Polo in South Africa! I found it at Zwartkops raceway, just like the Porsche 924 yesterday.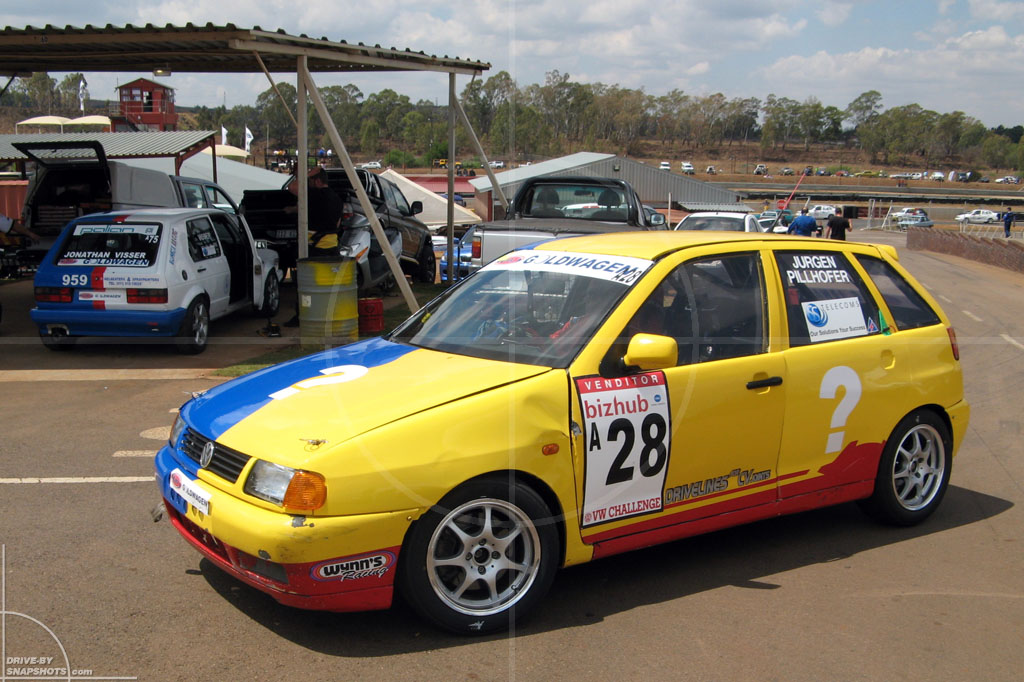 This FIAT Panda 4×4 lives in the Auto & Technik Museum in Sinsheim / Germany. The little gem easily won it's class at the 1983 Rallye in Algeria and competed in the Paris Dakar Rallye. If you are interested in the background story, check out what the builder and driver has to say.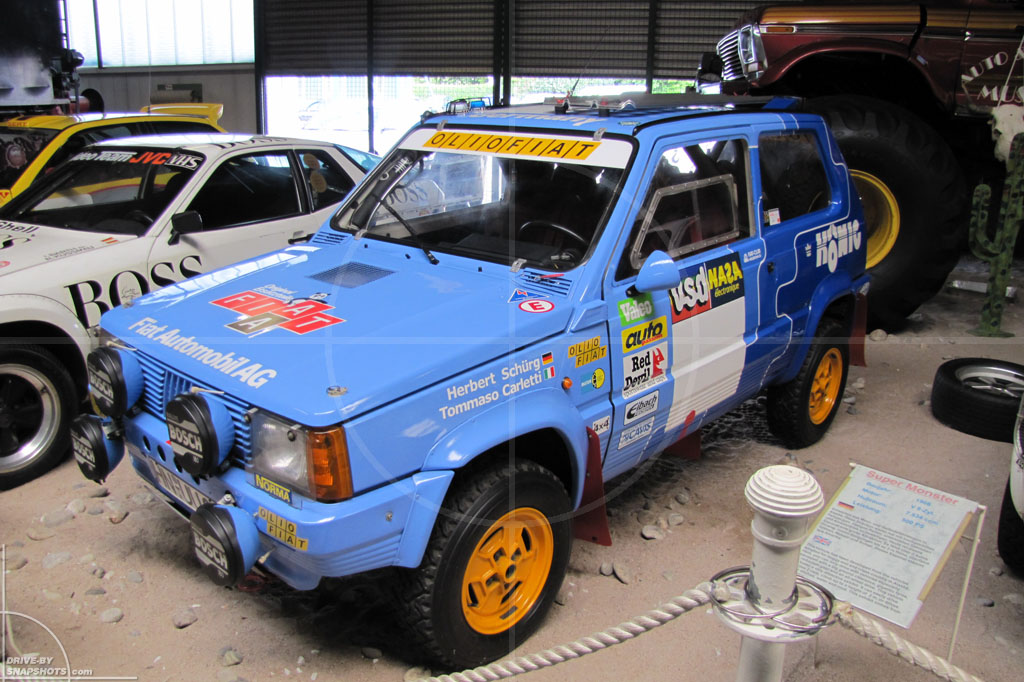 Day two | Other vehicles
For some reason or another, many Italians like to wear mirrored sunglasses. Well, this Italian living in South Africa is no exception – and the blue sky almost make the window tint look blue…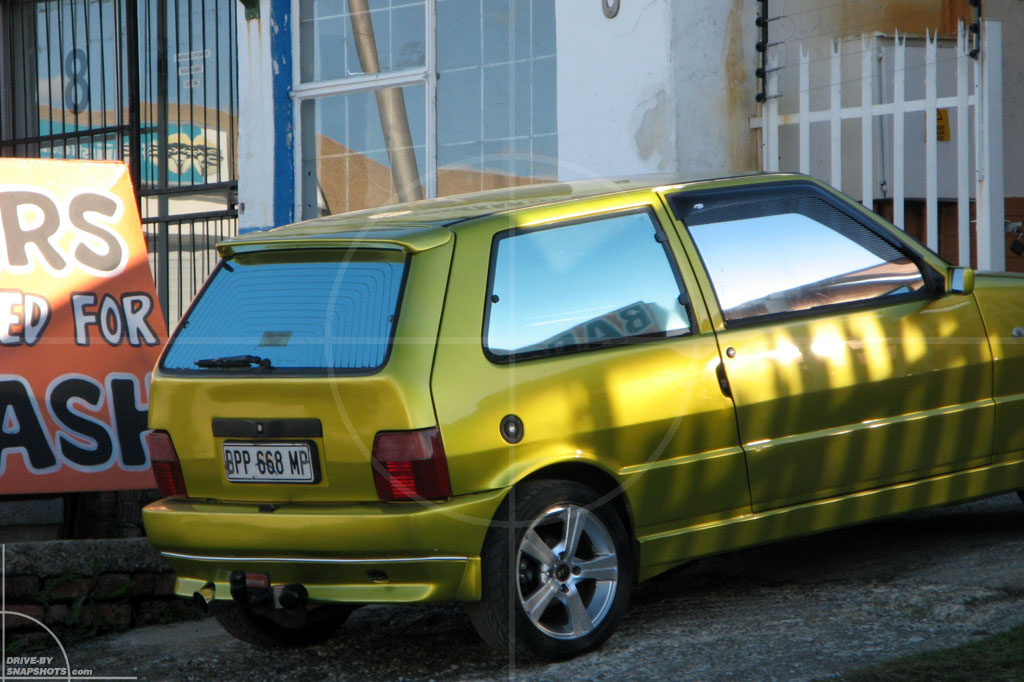 Arriving in Durban later that day, we found a matching Toyota Hiace Siyaya Taxi. The window wasn't tinted, though, but rather wrapped in clear kitchen foil.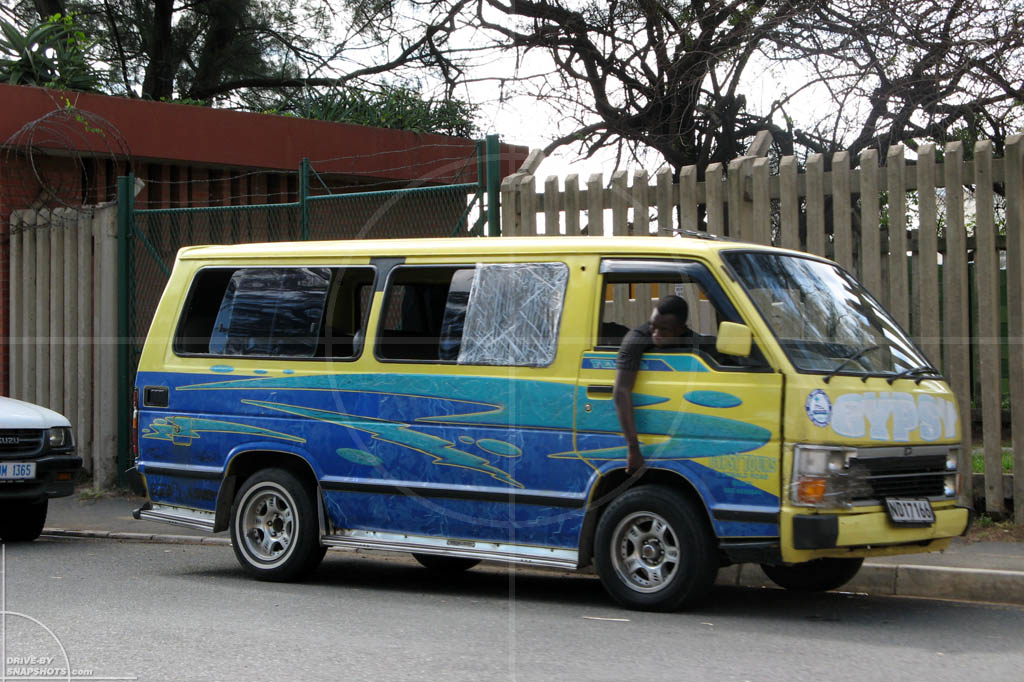 And last but not least, how about a Citroën 2CV which looked like it was specifically painted in these particular colors, only to be featured here at Drive-by Snapshots Yellow and Blue Color Week…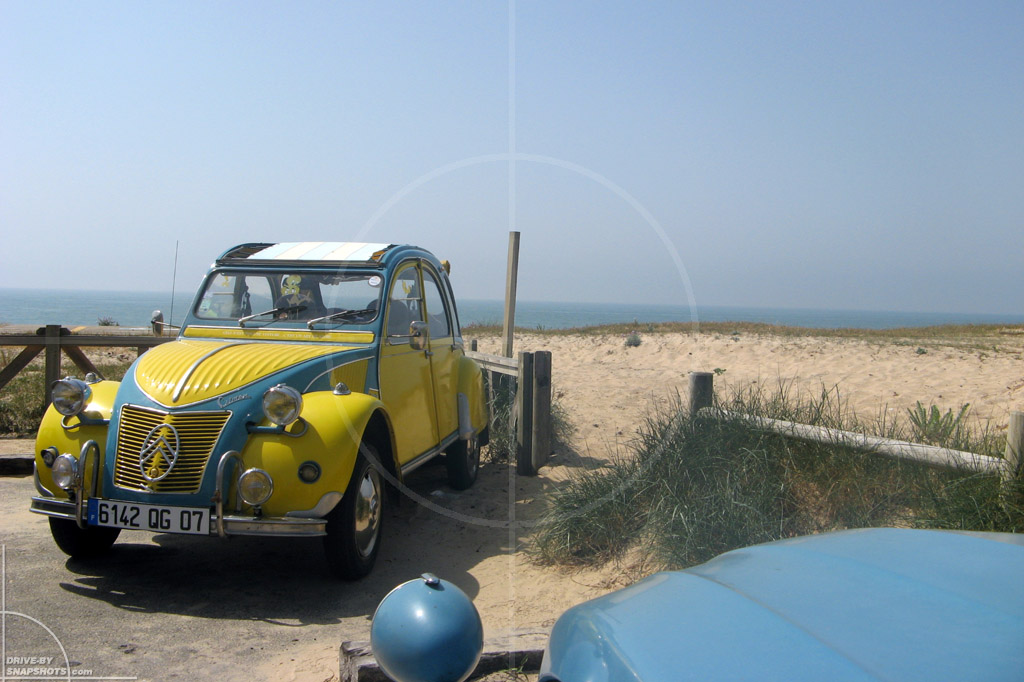 Sometimes, coincidences are funny. While finishing this blog post for publication, a friend sent me a link to an article over at speedhunters.com. Keith Charvonia wrote a great piece about finding project cars in the local neighborhoods of Tuscon, Arizona. I really love the article, because it described exactly what I've been doing for the last decade and a half: taking pictures of cars found along the roadside, without actually getting out of the car. Here is what I found during a one-week trip in South Africa. Albeit shot in various locations, all the pictures have one thing in common: the cars are parked under a tree.
Read More

»


Le Mans 2014. Three generations of awesome LMP1 race cars from Toyota are displayed in front of the Toyota hospitality building. That's actually a good chance to compare how the design of the vehicles has evolved over the years. They might become faster, sleeker and more aerodynamically advanced with each generation. But honestly, don't you also think the oldest car is the most handsome and good looking?
Read More

»


Let's suppose you just bought a brand new Toyota Hilux 4×4. It's as bright and shiny as it came from the factory. No scratch, no dent, hardly any kilometers on the odometer. Everybody is admiring the beautiful black paint and chrome plated accessories, but you think there is something missing. You scratch your head and wonder which box you forgot to tick when you ordered the vehicle. Surely, something is missing. To find out, you head over to the FWDCSA Base4 club grounds and talk to the experts.
Read More

»


While staying at the famous Blue Sky Mining Backpackers just south ofDurban, I had the chance to snap a few pictures of their Toyota LandCruiser VX clay model. The model was excellently detailed to the smallest possible detail! Hella auxiliary lights, badges, wipers, a surfboard rack and even a set of mudguards – fantastic 🙂
Unfortunately it was rather big and heavy and therefore I couldn't possibly buy it and take it back to Germany. Luggage weight restrictions on airplanes be damned…
Read More

»

Some people drive a Citroën 2CV for fun. Some people want to have more fun with their 2CV and take them on a trip to the Sahara desert in Morocco. A great idea if you are not afraid to take your classic vehicle on long distance trips under sometimes harsh conditions. The French call this kind of adventure "raid" – and it is anyone's guess whether or not this word originates from being afRAID once or twice along the way.
The Toyota LandCruiser 80 Series pictured here seems to belong to the head of the organization committee, called "Le pape organisation". The bumpers have been removed and the suspension raised. A snorkel and a heavy duty roof-rack kitted out with various gear, necessary for serious off-roading, complete the picture. This rig looks to be ready to tackle some dunes!
Read More

»


Taxis in South Africa. They may not always adhere to the street code of conduct and find make their own way around traffic jams. They may not always yield to somebody that has the right of way or cut in front of you. But – they do provide (more or less) reliable transportation for many people, who can't afford to own a vehicle. I especially like the colorful and well kept ones in Durban. The old-school Toyota Hiace Siyaya is my favorite body style, even though the newer models have more safety features and are equipped with air-conditioning. I found these two beautiful Siyaya Taxis in Durban, near the uShaka marine world.
Read More

»


On the way from Johannesburg to Bloemfontein we found a couple of new livestock trailers parked at a service station. Looked like one of the animals just loved the motto on the DairyBelle delivery truck and enjoyed a ding dong day. Sometimes, advertising really does reach an audience 😉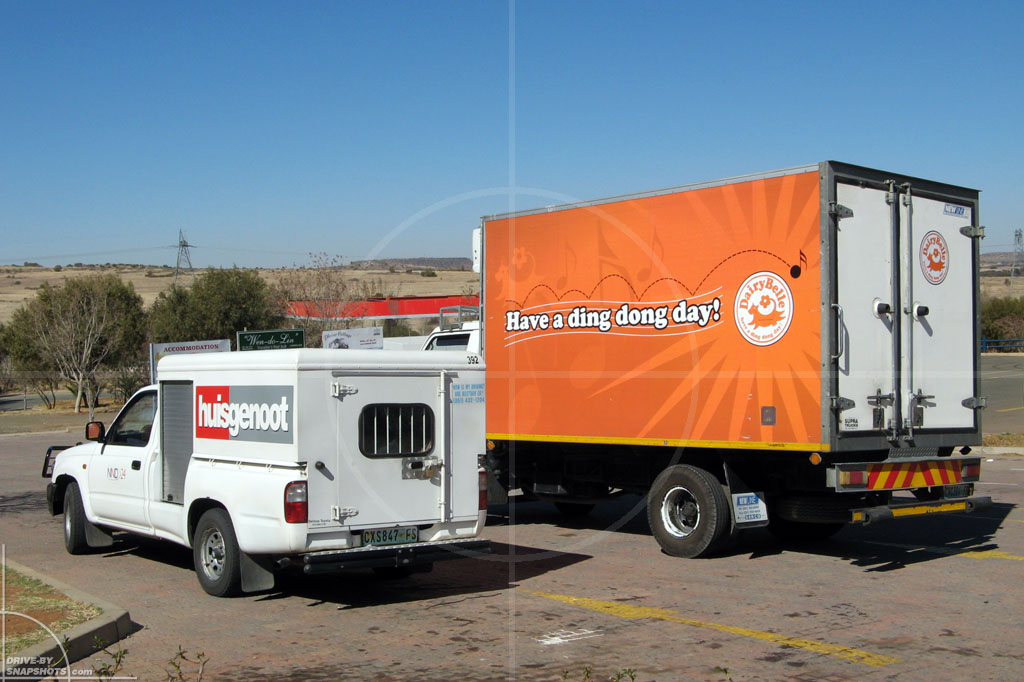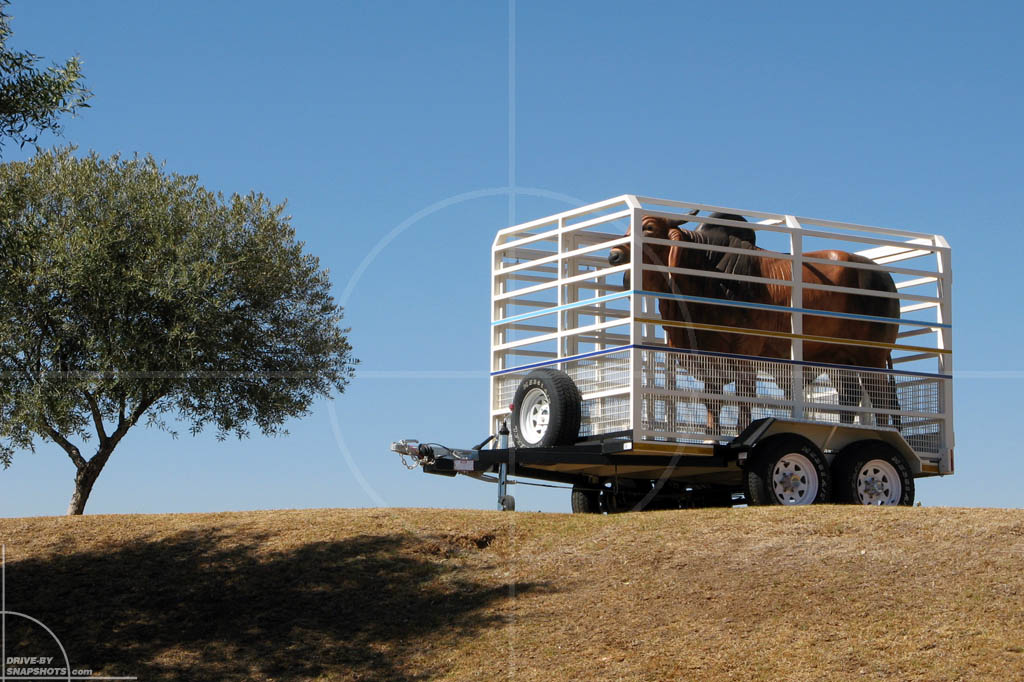 … we couldn't go surfing due to a massive beach break. We drove down the coast instead, heading to Biarritz for a Café au Lait. Walking out on the Capbreton pier is always a little adventure on a day like that. Walking back to the shore and setting foot on dry land again, we thought our eyes were fooling us. But indeed… there was something missing from the Toyota Tercel that drove past.
Read More

»

Swaziland, February 2008. Just before we left the the beautiful Mlilwane Wildlife Sanctuary, two Toyota HZJ 78 B̶u̶s̶h̶t̶a̶x̶i̶s stretch limos pulled up at the visitors center. They looked like rather luxurious vehicles for long-distance traveling – but due to the decreased break-over angle caused by the extended wheelbase, the off road abilities might not be that great any more. Still far better than most SUVs, though.
Read More

»